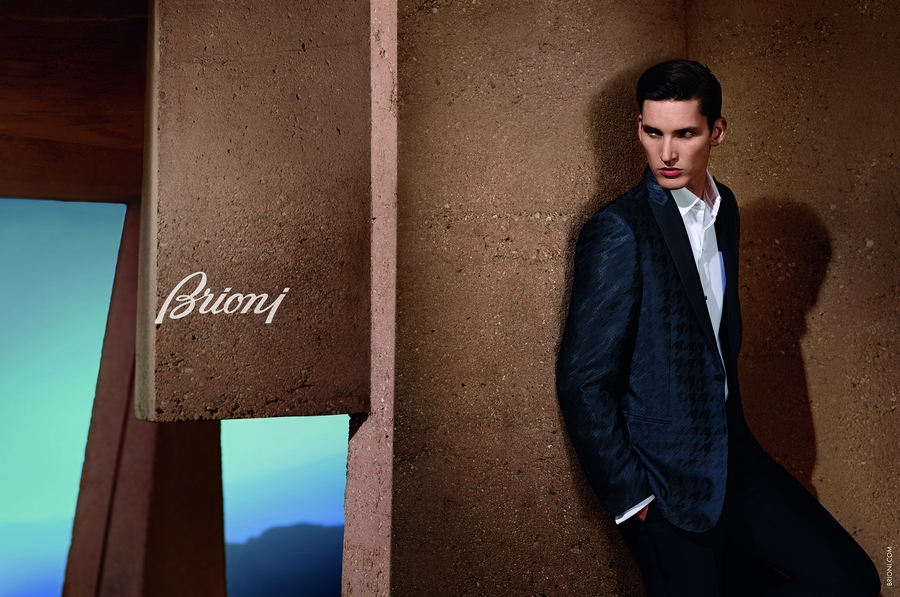 Los Angeles is a big source of inspiration this season for the Italian high- end fashion house Brioni (founded in 1945). The pulsating city that sparked the inspiration of the Brioni Spring/Summer 2015 collection, is also the setting of its ad campaign, which channels a more naturalistic feel of the area.
The desire to show a more private, intimate and sensual side of the Brioni man led to the rugged Californian coastline and to the minimalist boulder house of Eric Lloyd Wright, a work-in-progress construction based on designs by his celebrated architect/designer grandfather, Frank Lloyd Wright.
The result is a soft-toned collage of images shot by Collier Schorr with model Dominik Bauer that blend a sea-meets-sky sandy waterfront and the clean-cut lines of Wright's unfinished house, which perfectly harmonizes with the stones, offering a sweeping, misty ocean view.
More specifically, a secluded beach, framed by textured rock formations that dip into the water, sets off the sharp or soft silhouettes and the saturated colors of the season's statement pieces – a three dimensional evening jacket, a James Welling floral printed suit, an ocean green prince of wales suit and a soft silk shirt over Bermuda shorts.
"The idea was to show a day-in-the-life of the Brioni man, who loosens up after a day of work and shows his more relaxed yet sensual side against a natural backdrop that brings out the clothes," explained Brioni's Creative Director Brendan Mullane.
Last year, the Maison relocated its historical boutique from via Barberini in Rome to open a contemporary new store featuring the innovative digital service Brioni Mirror.