Was the fire stolen by Prometheus or just been discovered by mankind during the lighting storms ? Whatever the answer is, let's go back to our roots with this  kit designed for manual fire-lighting; it has been produced using contemporary, widely-available sophisticated tools and production processes. "This project is emotionally charged and extremely physical; it cuts across innumerable frustrating attempts to identify the perfect equilibrium between the various components. When I actually managed to create fire with my own hands, I was overwhelmed by a powerful sensation of self-sufficiency and independence: at the end of the day, what else is necessary…?"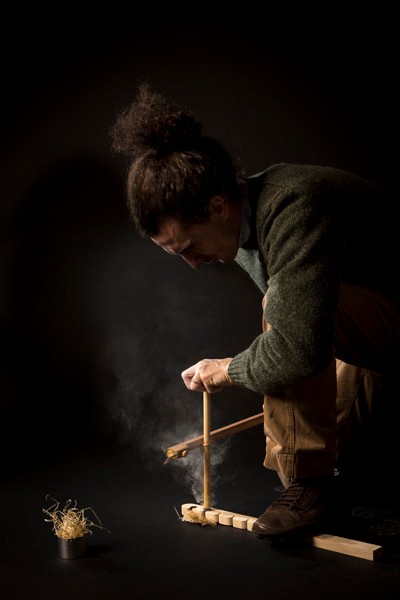 Re-Fire was designed by Francesco Faccin, commissioned and presented by Tempo Italiano, the first festival dedicated to Italian creativity and design, hosted in the Italian Institute of Culture, during the Stockholm Design Week, between 4 and 7 February 2014.
Francesco Faccin designed this project to provide an answer to the provocative message sent to him from the Tempo Italiano platform. It invited its participants to reflect on design past and present, on the meaning of production today, on a return to the origins of the basic needs and actions within a system of sustainable values.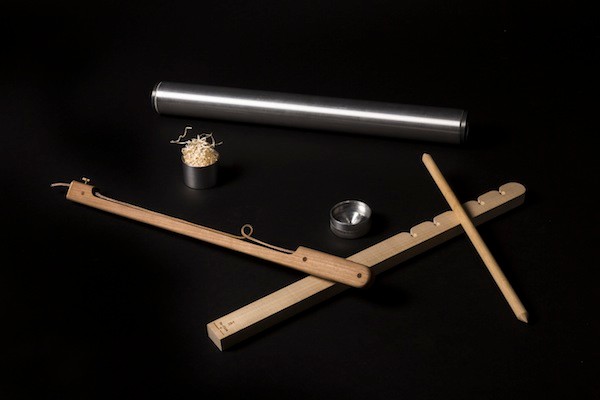 Francesco Faccin explained: "This project has been designed to manually light the fire in a completely primitive manner. Let's start with fire, the symbolic element that displaced primitive Man from an animal-like dimension and projected him towards a future of phenomenal innovations. Fire was invented and not discovered because, even though it exists in nature, Man had to find a way to produce it. This was the starting point for the project, the perfecting of the ability, the capacity of vision, overcoming the difficulties.
Let's start deep in the past, in the very beginning, when Man was fighting for survival yet everything was crystal clear, void of the superfluous and semantic misunderstandings where 'things' were concerned. Starting with this approach, we can bring ourselves back into contact with our inner being that requires the simple things in life, articles that are well-made and essential for our survival; items that bind us inextricably to nature yet they exploit the immense scientific heritage that Man has produced over thousands of years".
Find more about the artist at http://www.francescofaccin.it/. Photos: Delfino Sisto Legnani + Studio Faccin