Total control and performance worthy of pure racers, combined with the maxi yacht's comfort.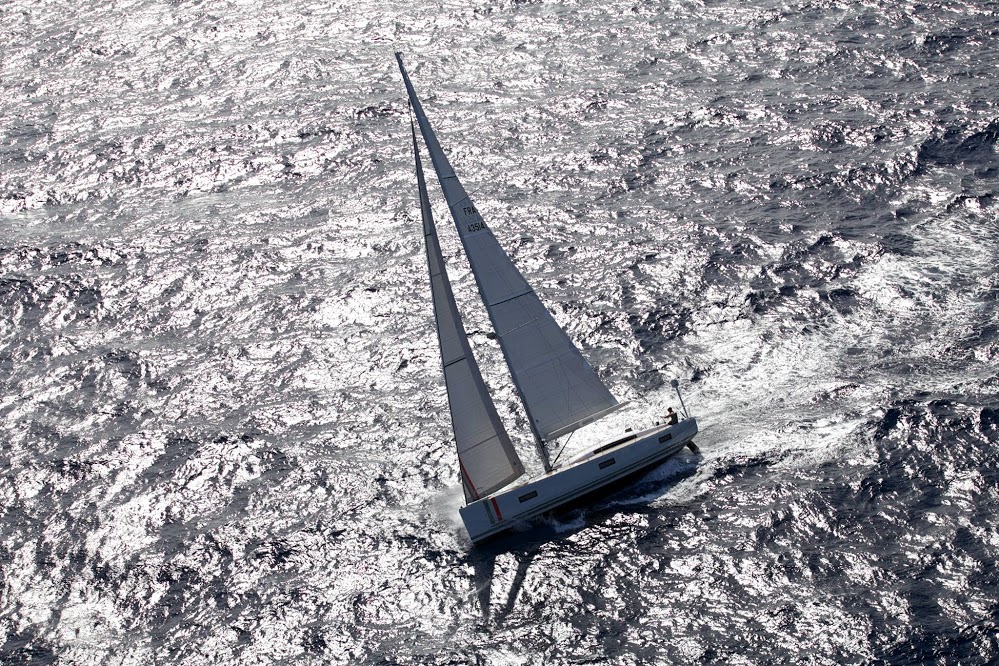 The 15-meter sailing yacht Aureus XV Absolute debuts at the Cannes Yachting Festival (from September 9th to 14th). For the most demanding sailors and more radical long courses, the "Absolute" version of Aureus XV yacht is full of excess. 100% made of carbon/epoxy, the Aureus XV Absolute offers the best equipment of its class, D4 membranes sails and fully automated controls, bringing sailing to the new era. From each helm stations you will control all maneuvers hydraulically or electrically.
Naval architecture is by Italian architect Emmanuel Rossi. The deck is designed for total freedom of movement, there are no rope ends to obstruct mobility and the equipment is flush or built-in. All manoeuvres are made from the helm station and controlled by hydraulic or electrical power, to guarantee maximum control and responsiveness with smaller crews. As for those who are not on duty, a generous sunbathing area at the stern provides an opportunity for relaxation.To offer a lifestyle at sea to match that of modern life in the big cities, Aureus XV has benefited from the talents of a recognised designer, and not only for his work on Maxi Yachts. Eric Benqué comes from a generation of designers who are able to combine a taste for luxury and the elegance of clean lines with an environmental awareness that induces him to make minimal use of materials, and preferably refined and durable ones. 
Generous storage space, a real multimedia area with satellite internet access and a fully fitted kitchen offer optimal functionality and the modern comforts of city living.
To limit the use of diesel fuel for navigation, Aureus XV is equipped with a revolutionary Watt and Sea hydro generator, developed for offshore racing. This built in version of the hydro generator produces 500 watts at 8 knots (20A), in clean energy to cover a good part of the onboard requirements. This reduces consumption and therefore the quantity of fuel on board and also allows a water maker to be run without using diesel. You can thus enjoy excellent living conditions without having to carry large quantities of water and without having to replenish the water supplies too often. Moreover, Aureus XV's velocity allows more frequent use of sails, even in light winds, which, in addition to making sailing more fun, also reduces the need for engine use.
To expand its range and offer modern high quality sailboats to a wider clientele, the brand has decided to propose two less equipped models, while keeping the Aureus XV's "chic" spirit, her vivacity, quality of construction and elegance. These two new versions are also furnished with leather and wood interior, TV-HI-FI / Working Desk space, 2 cabins and the dedicated technical cabin, L-shaped stainless steel kitchen and 2 bathrooms with separate showers. Each Aureus XV is delivered with a teak or synthetic teak deck (client's choice at no extra charge) and an electrical furler for genoa.