Artist in hotel: "Artist Room Zen" completed.
Hotel rooms transformed into works of art.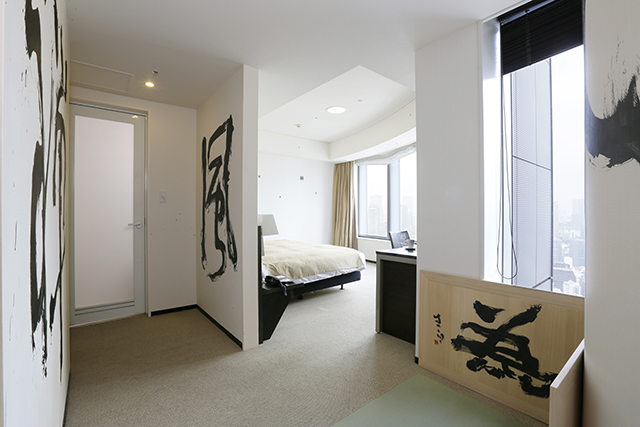 Would you like a spiritual experience in a hotel? Tokyo's Park Hotel (located in Shiodome, Tokyo, Japan.) completed its "Artist Room Zen" for hotel guests as the second in the series of its "Artist in Hotel" project that started last December. In the project, prominent Japanese artists decorate hotel rooms to present the entire room as an artwork. The four-star hotel has handed 4 of its rooms to Japanese artists to be transformed into works of art.
The Art Colors program will introduce Japanese culture to Tokyo visitors, inviting them to take in the creations of the Yokai Tour exhibition, dedicated to unusual phenomena and to spend a night in an actual piece of art – "The Artist Room Zen" decorated by artist and calligrapher Seihaku Akiba, known for workin around the theme of meditation. Travellers can meditate and watch the movie with the artist's messages.
"Today, "Zen" has been attracting attention not only in Japan, but from people all over the world. It is said that John Lennon, Steve Jobs and John Cage were all deeply influenced by the culture and spirit of Zen in Japan. Because, Zen is like a great wave that, without presumptions and thoughts, can reach the end of the universe.I created this room in order to help you understand the depth of the spirituality and tradition of Japan," explained Seihaku Akiba.
"When you enter the room, you can commit oneself to the world of Zen instantaneously. It is divided into "dynamic" and "static" – "dynamic" means spiritual strength or power of the mind, whereas "static" means unhurried tranquility of mind. On the mat, you can also practise zazen. In this space of different dimensions, the only one in the world, I would like you to experience the world view of Zen," added the artist.
"Sumo" room by Hiroyuki Kimura has been welcoming visitors since February 2013. The room celebrates famous Japanese wrestlers. The other two rooms will unveiled in November 2013 and February 2014, the names of the artists and the themes have not been revealed yet.
Seihaku Akiba's career highlights:
2008 – Exhibited his works at the Art Fair Tokyo held at Tokyo International Forum
2008, 2010, 2012 – Opened solo exhibitions at 77 gallery
2012 – Exhibited his works at Art Colours vol. 3 "Fragrance of the Moon" exhibition at the Park Hotel Tokyo
2013 – Held solo exhibitions at Sen Art Gallery and elsewhere.