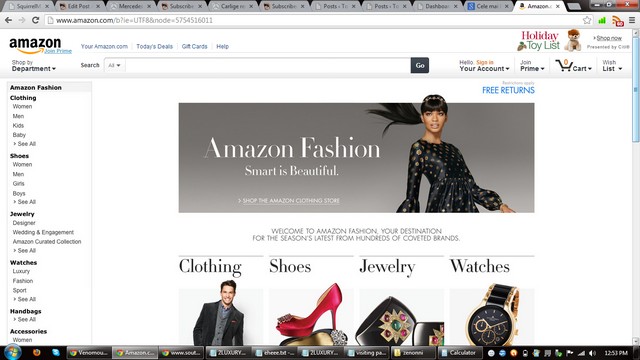 ---
This article titled "Amazon fashion: can it become the next net-a-porter?" was written by Lauren Cochrane, for theguardian.com on Thursday 18th October 2012 13.40 UTC
For those who want books, electronics and beauty products quick as a flash, Amazon is a no-brainer for most consumers. If the web giant has its way, high fashion will soon be on that list too. Having hired Cathy Beaudoin, who previously set up Gap's Piperlime retail site, it is now gunning to become the next net-a-porter.
Will it work? There is clearly some scepticism around how a brand known for discounted goods and, let's say, a lack of glamour, will translate to high fashion. Some have already dismissed the possibility of working with them. Louis Vuitton's chief executive, Yves Carcelle, said last week that the French house would "never" work with Amazon, while Alexander McQueen's Jonathan Ackroyd pointed to the "importance of brand identity online and maintaining it at the highest levels".
But the idea that working with a site like Amazon can damage your image isn't something that everyone agrees on. Brands are already represented on the site, including Vivienne Westwood, Alexander McQueen's McQ line, Diesel and Paul & Joe. Some, including McQ, are sold through smaller dealers, though, rather than the brand directly, making the clothing part of Amazon's site more like eBay than a traditional fashion site. eBay is, says Isabel Cavill, senior retail analyst at Planet Retail, currently Amazon's "closest competitor. But both sites have the edge if a customer knows what they want and want a good price on it."
While Beaudoin has said that Amazon's fashion offerings won't be about discount goods – she is in talks with the likes of Gucci, Prada and Burberry, hardly brands interested in bargain basement retailing – experts say this will take time, and changes to the Amazon model.
To move themselves up a notch in the luxury world, it's not about perception. Online retail successes like net-a-porter.com, mywardrobe.com and asos.com work because they have specialised in fashion – and can be shopped in a way that works for clothes, with extra editorial content increasingly beefing up the browsing time we spend on them. "Fashion isn't a commodity like books," says Ian Wright, fashion director at Draper's magazine. "Clothes need to fit a body and evoke an emotional response."
A quick browse shows Amazon's clothing pages aren't immediately obvious. Once you find them, it's clear this is still a work in progress – the pages have the same design for a Wrangler biker jacket, say, as they do when you're purchasing Hilary Mantel's latest, and they feel crowded rather than exclusive. "They've tarted up the fashion landing page but every page needs to indicate it's serious about style," says Wright. "The experience will not feel anywhere near as special as the pricetag should guarantee." Even the wording could do with another look: "clothing" rather than "fashion" suggests a more practical approach that jars with the aspirational world of luxury.
It's also about learning new ways of working. Choice, something that Amazon is praised for in other categories, could be to their detriment here. With nearly three million items in the clothing section, it's not browser friendly. "We're in the age where the consumer actually wants more of an edit," says Cavill. "It's a question of them creating something inspiring."
Right now, we're in the first stages of Amazon's fashion takeover but, once the kinks are ironed out and snobbery is overcome, the power of the biggest retailer on the internet looks likely to prevail and success could be inevitable. "If they get a big brand, the rest will follow," says Kate Omerod, a retail analyst at Verdict Research. "The luxury sector has traditionally been quite slow but it can't be a blanket 'no' now. They have to seek out online retail. They're a leader online," adds Omerod. "Even if it's only partly successful, the rewards will be huge."
guardian.co.uk © Guardian News & Media Limited 2010
Published via the Guardian News Feed plugin for WordPress.