A $4.2 billion mega-resort and casino to be build in Cairns, Australia.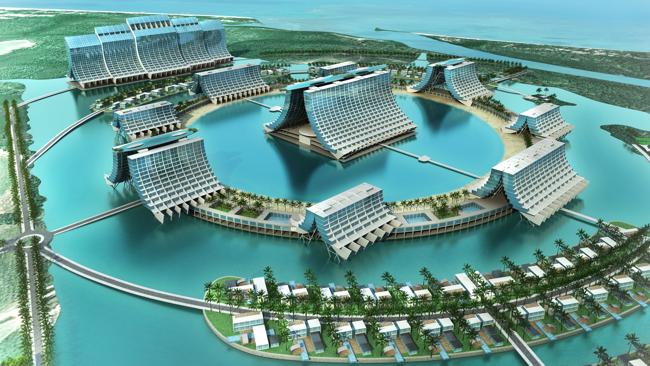 A bold plan to build a $4.2 billion mega-resort and casino in Cairns, a regional city in the far north of Queensland, Australia, has green light from the Australian government. The Aquis Resort casino project proposed for Cairns by Tony Fung, a Chinese billionaire, would include nine luxury hotels, a sports stadium, high-end retail shopping and will be "without peer in Australia."
"What North Queensland is missing is the man-made wonder of the world," said the Hong Kong-based banking and property tycoon, quoted by theaustralian newspaper.
"Facilities of the like of Aquis don't only attract the Chinese mass market middle class, but also the big spending, high value, ever expanding Chinese upper class," added Fung.
"Australia's only genuine, world-class, integrated resort" will include also 1,200 apartments and 135 villas, high- end retail shopping, theatres, a 13-hectare reef lagoon, 18-hole golf course, a convention and exhibition centre and a 25,000-seat sports stadium.
"Tony Fung is keen to make sure it is done properly environmentally, socially, and to the benefit of the whole region," chief executive of advocacy group Advance Cairns Mark Matthews told the Cairns Post newspaper.
"This has not happened overnight, it is part of a broader investment confidence in the north."
While Aquis is a "mega resort" project the proposed casino is only slightly bigger (in terms of tables and machines) than Crown Melbourne. Aquis is seeking approvals for about 750 tables and 1500 poker machines, wrotes theaustralian.
"The largely undeveloped nature of Yorkeys Knob and its proximity to the Cairns airport provides an incredible opportunity to create an integrated tourism facility that puts the city on the global stage,"Fung said in an interview for couriermail.
"We want to create a new jewel in the Australian tourism crown and provide a trigger for the emergence of Cairns as a globally recognised destination.
"I have visited hundreds of cities around the world and Cairns remains one of the most welcoming and friendly I have ever been to. Our goal is to introduce a whole new generation of Australian and international visitors to Cairns and far north Queensland and get them coming back for more."