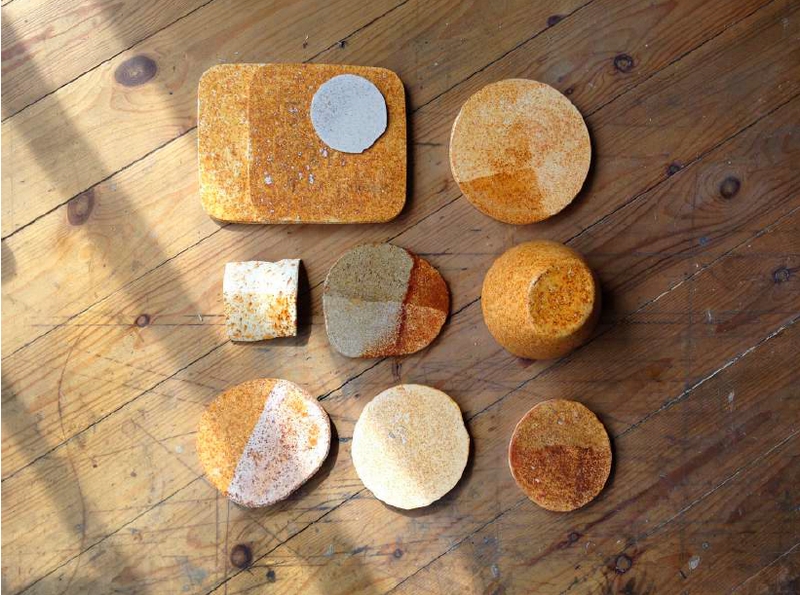 On 21–24 September 2017, London Design Fair presents its inaugural Material of the Year installation at Old Truman Brewery – a new initiative intended to explore and celebrate the materials having the biggest impact on the contemporary design world.
For the first edition, the fair has selected a material whose near-limitless versatility has seen an explosion in its use among designers and which has formed – or been incorporated into – many of the most vividly colourful and finely detailed products of the last 12 months.
Jesmonite – the lightweight acrylic-modified gypsum composite first developed in 1984 – has a unique capacity to create an almost endless array of appearances and surface textures – down to the finest level of detail. It can be used in isolation or mixed with other materials to introduce distinct visual effects.
For the Material of the Year exhibition, London Design Fair has invited PRIN London to push the limits of this technique still further, by creating a site-specific installation that responds to the architecture of the Old Truman Brewery.
"Over the last twelve months, we have most often been surprised to find that Jesmonite has been the medium for some of the most vivid colour displays and fine detail in the products we have been most intrigued by." said Jimmy MacDonald, Founder & Director, London Design Fair.
One maker who has been taking advantage of the material's flexibility is product designer Ariane Prin,founder of PRIN London, who has been working with Jesmonite for the last four years. Her RUST collection of vessels, launched during London Design Festival in 2015, makes use of a combination of Jesmonite and metal dust from key-cutting waste. As the metal oxidizes, it lends a unique texture, colour and surface pattern to the vessel, ensuring no two RUST pieces are ever the same.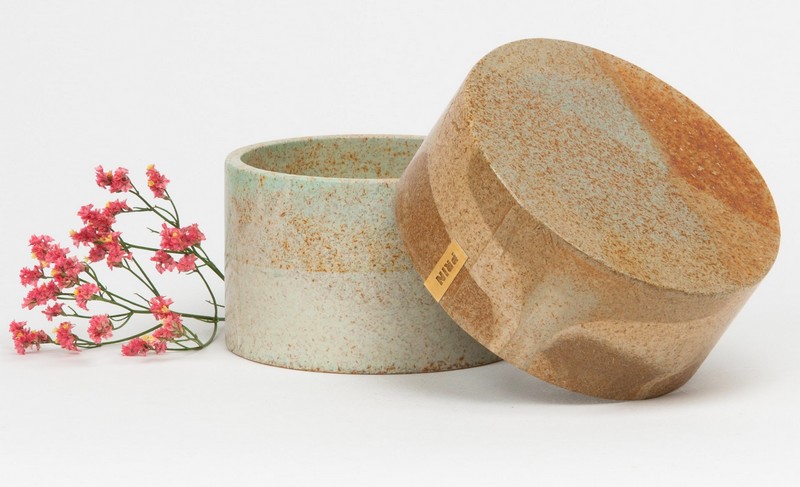 "So many things can be made in Jesmonite – it's versatile, and I love the fact that it sets quickly (no kiln required). I first used it back in 2013. My studio mate had a small bucket of it left and gave me some. I had a lot of waste materials in the studio, including a bag of key dust. On that day, I wasn't searching for anything in particular; I was just experimenting and having fun by mixing materials together. I had a freelance job at the time and when I came back to the studio a week later the samples with the key dust had oxidised. I thought it could be an interesting thing to continue pushing. I would have never imagined that I would set up a business out of this accidental mix of circumstances," said Ariane Prin.
"The homeware is made by mixing metal dust with Jesmonite, a gypsum and resin composite material. Each handmade piece in the collection develops over time as the metal oxidises – causing the colour and texture to change," said dezeen about the inaugural Jasmonite collection showcased by Prin London a year ago.
For the installation – its largest to date – PRIN London is developing Rustiles; a series of tiles made from Jesmonite adulterated with metal dust, designed to reflect the dimensions of the classic London brick.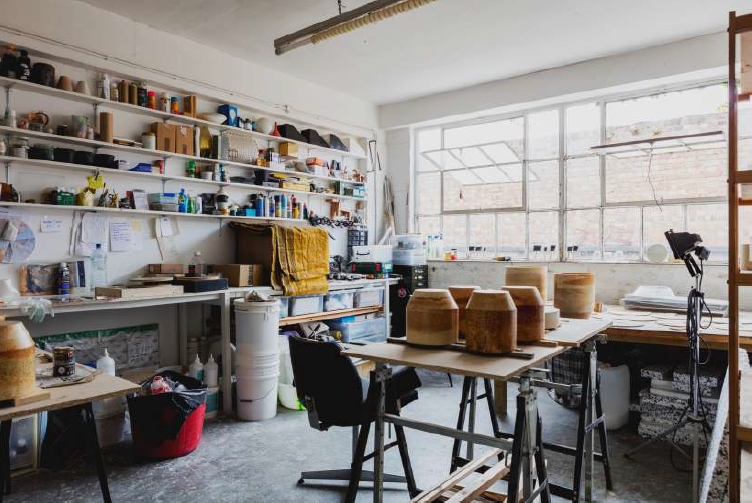 Supported by Jesmonite, the studio will spend three months engaged in the design and production of the tiles, working in partnership with Jesmonite-casting specialists Feathercast to make the moulds. Thanks to the effects of oxidisation, each tile will be one of a kind. Together, Rustiles will create an astonishingand unpredictable architectural mosaic of textures and colours that showcases the sheer adaptability ofJesmonite as a surface material – as well as the creative ingenuity of Ariane and her studio.
Although it was initially conceived for building applications as a safe alternative to fiberglass and a lightweight alternative to concrete, Jesmonite has achieved a growing following among architects, artists and designers – which the company has nurtured through support programmes at the Royal College of Art and collaborations with designers such as Hilda Hellström, Alex Chinneck and Stephanie Tudor.
Alongside PRIN London's Rustiles installation, various other designers and studios will be showcasing Jesmonite-based products at London Design Fair, including surface designer Katie Gillies and Maison & Objet 2017 Rising Talent Zuza Mengham. Rustiles will be on display on the ground floor of Hall G5 at Old Truman Brewery on 21 – 24 September.