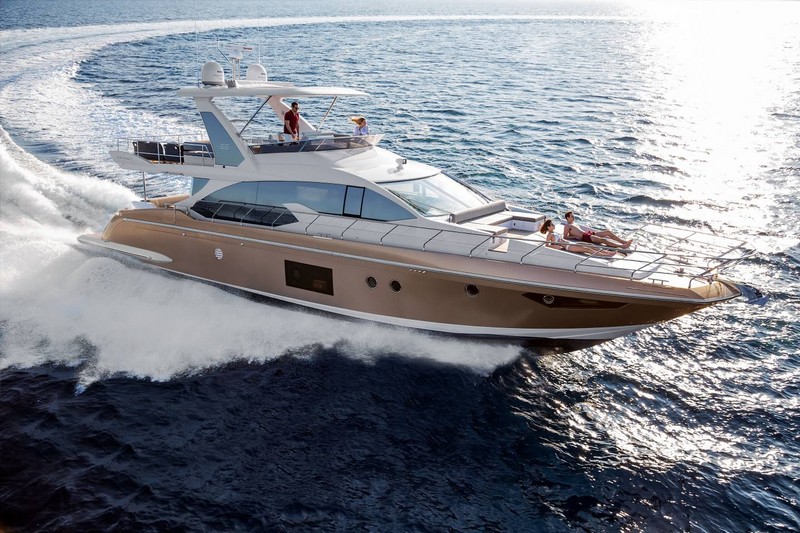 At the upcoming Düsseldorf Boat Show, scheduled for January 23 through 31 2016, the Italian yacht‐manufacturing companyAzimut Yachts presents the world premiere of the harmonious lines of the Azimut 66. The new model is designed by Stefano Righini, with the hallmark shark's fin shaped side window, the particularly spacious elongated flybridge and the prow area transformed into an exclusive lounge.
The carbon fibre superstructure makes the vessel considerably lighter and increases its interior volume. Designer Carlo Galeazzi, who worked on the interiors of the Azimut 66 with the shipyard's styling office, not only came up with the usual refineddecor but focused his attention on the need to optimise use of space, obtaining extra storage space in the already ample interior volumes to make the Azimut 66 an even more convenient vessel.
The Azimut 66 boat is part of the Flybridge Collection, the most classic of Azimut's collections, and the one which has seen the most important renewal of its stylistic and technical content. The process of renewal of the range began with the Azimut 80 in 2013, to continue with the Azimut 50 in 2014 and the recent Azimut 72, unveiled in September 2015. And so the team of Azimut technicians has been faced with the difficult task of producing a new 20 metre vessel combining all the innovations appearing in the most recent models in the new collection, a process that has transformed the Azimut 66 into a true icon representing the entire range.
As part of the renewal of Azimut's brand identity focusing on the true value of Italian craftsmanship, in Düsseldorf, as in Cannes, Genoa, Fort Lauderdale and Hainan, Azimut will appear with a new image designed by architect Michele De Lucchi. De Lucchi, one of Italy's best‐known architects (who designed the Triennale di Milano, the Palazzo delle Esposizioni in Rome, and the Neues Museum in Berlin), was appointed to redesign the Italian yacht‐manufacturing company's stands to represent the company's particularly Italian identity before the whole world.
Azimut Yachts will exhibit 5 models in Germany: in addition to the Azimut 66, the 77S, the Atlantis 43, the Azimut 50 Flyand the Magellano 43. While reinforcing its distribution in Europe. After launching Azimut Yachts London with offices in Mayfair, Azimut Yachts Finland and Azimut Yachts Austria & Germany are also now fully operative, announced the yachting powerhouse.