At a press conference hosted by Bridgestone Corporation and the New York International Auto Show, the Mercedes-Benz S 250 CDI BlueEFFICIENCY was declared the 2012 World Green Car.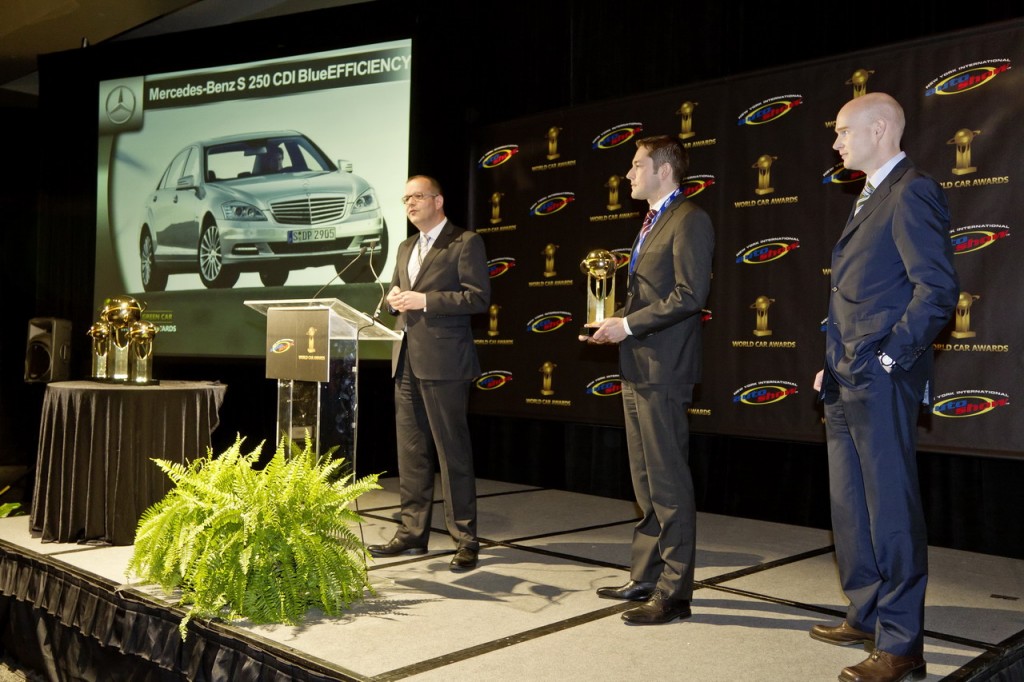 The Mercedes-Benz S 250 CDI BlueEFFICIENCY was chosen from an initial entry list of twenty- three (23) new vehicles from all over the world, then a short list of ten, then three finalists: the Mercedes-Benz S 250 CDI BlueEFFICIENCY, the Ford Focus Electric, and the Peugeot 3008 Hybrid.
This is the second time in World Green Car history that a Mercedes-Benz technology has won this prestigious honour. The Mercedes-Benz E320 Bluetec technology was the 2007 World Green Car winner.
"The highly efficient gasoline and diesel engines in the S-Class show that our customers can drive a luxury vehicle with a clear conscience. The S250 CDI is the most impressive example: with a fuel consumption of only 5,7 l per 100 km, the S250 CDI is the most fuel-efficient luxury sedan in the world," noted Prof. Dr. Thomas Weber, Board of Management, responsible for Group Research & Mercedes-Benz Cars Development.
Other 2012 World Car Awards winners were the Volkswagen UP! for World Car of the Year, the Land Rover Evoque for World Design Car of the Year, and the Porsche 911 for World Performance Car of the Year – an award given on the day of the death of Ferdinand Porsche.
The World Car Awards are given every year at the New York International Auto Show after announcements at other shows lead up to the finalists.
To be eligible for the 2012 World Green Car award, a vehicle had to be all-new, or substantially revised, in production and introduced for sale or lease to the public in quantities of at least 10 in at least one major market during the period beginning January 1, 2011 and ending May 30th, 2012. Tailpipe emissions, fuel consumption, and use of a major advanced power plant technology (beyond engine componentry), aimed specifically at increasing the vehicle's environmental responsibility, were all taken into consideration.
Due to the complexity of some of the 'green' technologies, three (3) green experts were appointed by the World Car Awards Steering Committee to extensively review all documentation and specs associated with each candidate. They were asked to create a short-list of finalists for review by the sixty-four (64) jurors in their second round of voting in February. Their ballots were then tabulated by the international accounting firm KPMG.
Previous World Green Car winners were the Chevrolet Volt in 2011, the Volkswagen BlueMotion in 2010, the Honda FCX Clarity in 2009, the BMW 118d with Efficient Dynamics in 2008, the Mercedes-Benz E320 Bluetec in 2007 and the Honda Civic Hybrid in 2006.