Karl Lagerfeld guest editing French edition of Architectural Digest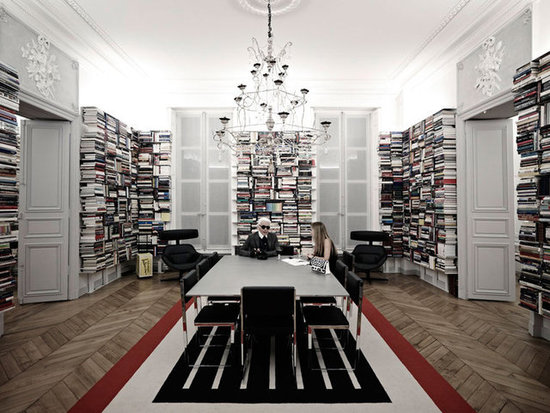 Karl Lagerfeld's Parisian apartment on Quai Voltaire is on display on French Architectural Digest's cover. The designer is guest editing the May 2012 issue of the French edition of AD magazine.
Before the offical launch on 13th April 2012, the AD magazine is on a preview sale in Lagerfeld's bookstore L7. To meet the increased demand, Architectural Digest printed 150,000 copies of the magazine.
"I better hurry if I want to be the editor-in-chief of the next issue of AD. I'm asking myself what I will show and tell the readers. The issue will reflect my tastes that I hope will be a surprise," Karl drawn in a preview sketch/ manifesto.
In his editor's letter Lagerfeld explained the decoration process: "We are at the heart of a Russian doll: first the clothes, then the apartments and houses," he writes. "Even the streets and the cities are part of the evolution of our preferences and our taste."
The 220-page issue, with the designer's futuristic Quai Voltaire apartment featured on the cover and photographed by him inside, includes articles on Martin Szekely, Zaha Hadid and François Morellet — whose work Lagerfeld admires, wrote WWD. The designer also edited a selection of high-tech gadgets and picked 20 cool chairs out of 140 proposed to him by AD. He even shares his collection of pins and brooches by Suzanne Belperron.