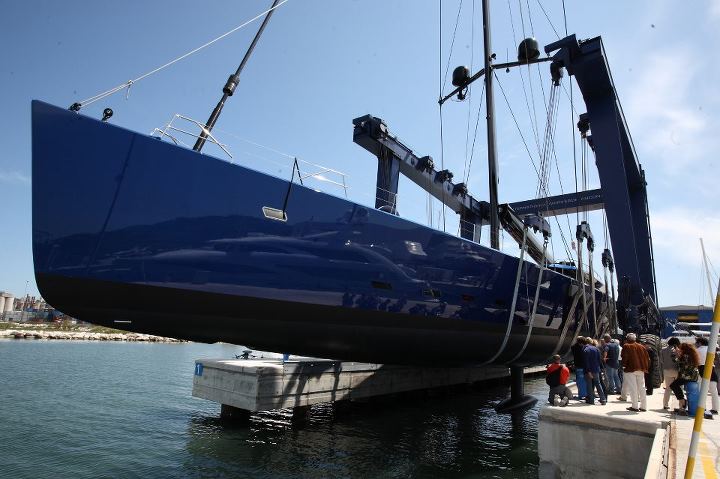 Wally, the builder of innovative sail and power yachts, has launched the stunning Bugatti blue coloured 50- meter sailing yacht Better Place, the world's largest sloop in carbon fiber developed on the lines of Tripp Design with the interiors by Wetzels Brown Partners, and uniquely classified RINA Green Star.
The yacht yacht was built in Ancona, Italy, at WallyEurope facility using the most advanced carbon fiber construction technology.
Better Place is the first luxury sailing yacht ever developed to comply with the environmental requirements of the RINA Green Star Design additional class notation, reserved to the ships which are designed, constructed and operated in such a way as to ensure maximum respect for the environment.
The fast and simplified mega yacht uniquely combines performance with all the world cruiser characteristics offering plenty of storage and large living areas exceeding 300 sqm inside and 400 sqm outside.
The exterior and interiors are developed following the Wally concept of inside-outside living areas, whereas the interiors open onto the exteriors and vice versa. Introduced in yacht design by Wally in 1998 with the sailing cruiser Tiketitan, this concept has been constantly developed by the Monegasque brand pioneering also the glass deckhouses and the deck skylights.
The 100-sqm sundeck is accessed both by an outside staircase and by an inside open staircase, leading to steering and navigation, lounge, dining, sunbathing and barbeque areas, a particularly innovative service feature is the open food lift connecting galley, interior dining area and sundeck– a 'suitcase' suspended in free space, connected by a single vertical track, to lift . The sundeck dining can be converted into a huge sunbed with the addition of an inflatable mattress, providing further comfort without stretching available storage capacity.
A hull side door is located amidships to starboard: when open, it converts into a swimming and tender boarding platform.
"With Better Place, once again Wally opens a new route in yacht design and innovation" enthusiastically says Luca Bassani Antivari, Wally Founder and President and head of the R&D "We succeeded in delivering an environmental friendly and breakthrough Wally 50m with aggressive and sleek lines of a true performance sailing yacht, rather than the motor sailer look typical of this class of yachts."
"Better Place introduces innovative concepts in the round-the-world mega yacht cruisers" continues Bassani "such as big volumes associated with ultra light displacement, latest diesel electric propulsion system, staysail simplified system, deckhouse with full height windows, uniquely large open-air living areas, raised bulwark, aft owner's suite with portholes and hatches on four sides and direct access to the Terrace-on-the- sea. "
Wally has currently under construction six more yachts: two units of the box-ruled racing-cruiser WallyCento, Hamilton and Magic Carpet Cubed; the Wally 147 mega sailer; three units of WallyAce, the new displacement motor yacht model, totalling an order book of 184 meters (604 feet).