There's something new for the SRT garage in Gran Turism0: SRT Tomahawk Vision Gran Turismo.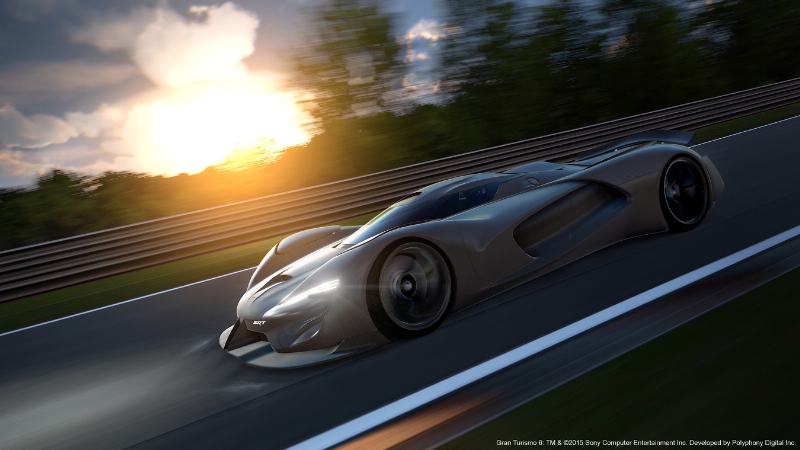 The SRT Tomahawk Vision Gran Turismo is the latest addition to the Vision Gran Turismo project where automakers, design houses and leading brands around the globe showcase special concept vehicles exclusively in Gran Turismo, one of the most popular video game franchises in history. Beginning summer 2015, players can access three powerful versions of the SRT Tomahawk Vision Gran Turismo by successfully completing online challenges of varying degrees of difficulty in GT6.
The extreme exterior look of the SRT Tomahawk Vision Gran Turismo was born from an internal design competition that sought a futuristic (2035) interpretation of a high-performance Dodge. But this single-seat car is more than just digital design fantasy.
The ultra-lightweight materials used in the chassis and body work result in a car that weighs just 1,658 pounds in its ultimate performance configuration – just slightly heavier than a current day Formula One race car.
The overall shape of the SRT Tomahawk Vision Gran Turismo imparts a sense of movement and flow. The front view conveys an aggressive, almost menacing character, while the rear view takes on a bolder and powerful aesthetic with angular graphics and asymmetric look to the fenders.
All of the transparent elements, including the cockpit and engine cover, are made from ultra-light graphene skins. The driver views the SRT Tomahawk Vision Gran Turismo's instruments and communication system on a clear digital overlay on the graphene windshield.
A large air intake for engine cooling is mounted on the hood. Active panels mounted above the front and rear fenders are constantly moving, via pneumatic assist, to create the optimal amount of aerodynamic downforce for braking assist and traction under acceleration.
An overhead view of the SRT Tomahawk Vision Gran Turismo is marked by a "pinched- waist" silhouette. An exposed aluminum spine channels air to help cool the V-10 engine.
The entire vehicle design, from the driver position to the nearly flat layout of the V-10 engine, is intended to achieve the lowest possible center of gravity. The SRT Tomahawk Vision Gran Turismo was engineered and developed to the same uncompromising standards as any SRT vehicle on the road today. SRT engineers also worked in their spare time and on weekends to create three extremely fast cars that test the limits of human physiology.
"We had fun stretching our minds to create the SRT Tomahawk Vision Gran Turismo for GT6. The game places a high emphasis on capturing reality in a virtual environment; our goal was to respect that philosophy by focusing on plausible future technologies that could achieve our vision of extreme performance," said Mike Shinedling, Manager – Advanced Concepts, SRT Engineering, FCA US LLC. "Everyone can appreciate an exquisite design and something that is beautifully engineered; when those two things are brought together in a fusion of cooperation, there is nothing more exciting."