When working on their most famous fragrance Flowerbomb, Viktor&Rolf wanted to create something new. They dreamt of a fragrance that had the power to spread a positive message. A profusion of flowers as a weapon to spread the world with beauty and fantasy and to transform the negative into positive. In the couture section Viktor Horsting and Rolf Snoeren continue to delve into their search for "conscious design" with a collection of playful call to action mascots.
With Haute Couture Autumn/Winter 2017, Viktor&Rolf present a parade of Haute Couture Action Dolls: a surreal yet playful fashion team of stylised Viktor&Rolf mascots, rooting for a world that is creative, diverse and eco-conscious.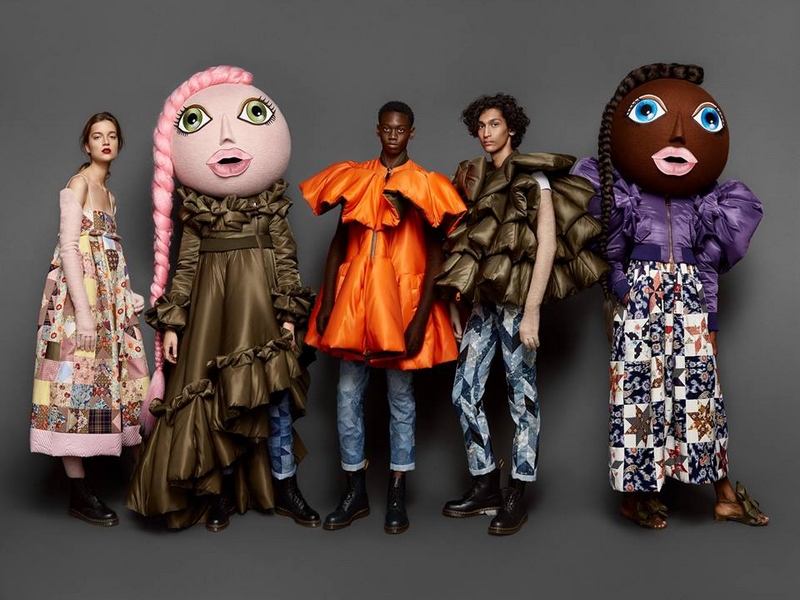 Fashion Artists Viktor&Rolf have been staging signature collections for over twenty years during Paris Fashion Week – ever since the first haute couture collection in Spring/Summer 1998 – Viktor&Rolf creations evoke a provocative spirit infused with surreal contrasts.
Their outfits consist of a bomber jacket, jeans and a t-shirt. Various doll elements, including fabric-covered faces and bodies are fragmented and mingled into an extreme patchwork statement.
Patchwork continues to explore the idea of upcycling. It also serves to symbolise a wish for harmony: to create unity through diversity.
" In their highly modified MA-1 bomber jackets complete with bright orange lining and paired with jeans and Doc Martens, they were properly dressed for their role as "action dolls." And until the 20th look—a floor-sweeping dress covered in geometric quilt motifs—the designers wanted you to believe that these bobbing, wide-eyed woolen heads were just an alternative way of showing off their characteristically voluminous permutations of an otherwise generic wardrobe standby," said vogue about Viktor & Rolf Couture Show in Paris.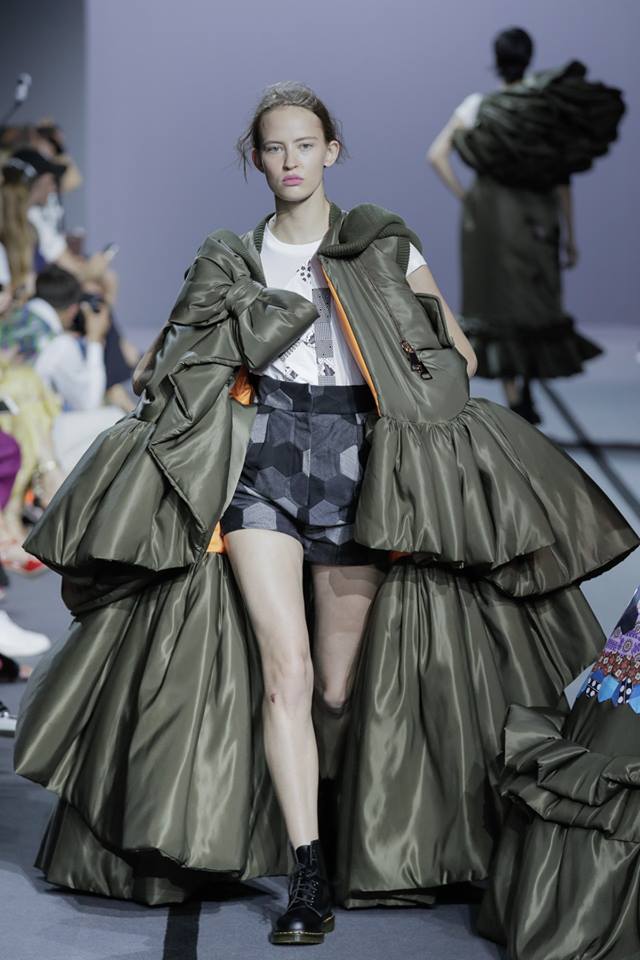 "But then the march began anew; only this time, the models who had previously been peering through giant fake lips returned in the same outfits, now opened up and worn casually to expose artfully treated denim, " added vogue.
"Looking like a parade of real-life Bratz dolls, the first 20 looks of the show were worn by models in the doll costume heads. Aside from potentially inciting nightmares of a well-dressed doll apocalypse, the good news is that the show featured a diverse lineup of dolls," explained harpersbazaar.