Limited-edition Vertu Ti Ferrari.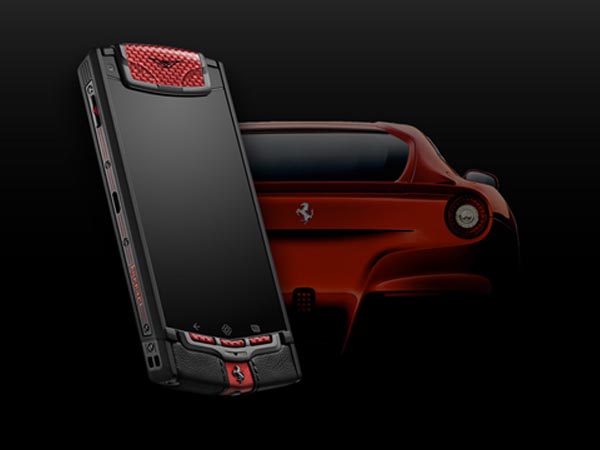 The luxury phone maker Vertu and the luxury sportscar brand Ferrari teamed up for a new version of the Ti smartphone, this time
inspired by the Ferrari F12 Berlinetta. The red and black leather used in the seats of Ferrari sports cars was used for a limited
edition of 2,013 smartphones. The luxury gadget's casing features diamond-like carbon (DLC) used by Ferrari to protect engines
from extreme heat and friction. The lightweight DLC material is ten times stronger than stainless steel.
F12 berlinetta inspired the back of the phone,the position of the camera, while Ferrari App provides access to the latest Ferrari
news. Reflecting the sweeping rear curves of the Ferrari F12berlinetta, the pillow of the VERTU Ti Ferrari has been crafted from
Alutex – a special lightweight composite weave used to stunning effect on Ferrari interiors and painstakingly colour-matched to
the red Ferrari leather using a new technology unique to Vertu.
In another first, two Ferrari leathers – Red and Black – form a dynamic stripe around the casing of the phone. Stitched in the
same style as Ferrari seats, the soft leathers – as found in Ferrari GT cars – were specially treated by Vertu to be strong enough
to withstand the rigors of use on a mobile phone.
"Product of a shared passion for design, craftsmanship and performance, the new VERTU Ti Ferrari Limited Edition showcases the
closest collaboration yet in six years of Vertu and Ferrari's partnership. This latest handset embodies the unique DNA of VERTU
Ti,but is closer to the unmistakable materials, design and sounds of Ferrari than any other Vertu Ferrari phone," said Vertu about
the new limited-edition.
Focused mainly on the design and strength, VERTU Ti Ferrari Limited Edition offers the clarity of a 3.7" sapphire crystal screen,
a grade 5 titanium casing, an 8MP photo camera, a 1.3MP front camera for video chats, wifi, 3G+ connectivity, Bluetooth, and the
experience of Vertu's curated services on the Android 4.0 (Ice Cream Sandwich) platform. The grand tourer's V12 engine are available as four ringtones.
This new luxury phone is now retailing at S$20,800 (US$16,309).