Pernod Ricard's Ballantine's 40 Year Old
Ballantine's 40-year-old limited edition scotch ready for annual production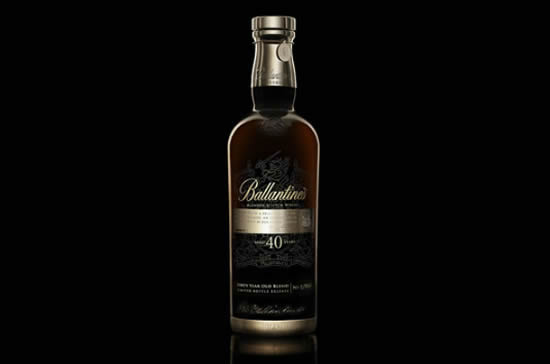 Ballantine's 40 Year Old represents a new pinnacle of quality and craftsmanship for the range. Only 100 handcrafted bottles of this ultra-rare whisky are available each year.
"This 40yo blend is something I believe George Ballantine would be proud to put his name to. It has been an honour to realise his aspiration and to contribute towards this significant moment in the history of Ballantine's Scotch whisky," commented Master Blender Sandy Hyslop who developed the whisky by using small amounts of a rare inventory of aged whiskies.
Perfectly balanced with incredible depth, Ballantine's 40 Year Old is rich on the nose with a multi-layered palate of rich toffee and sweet red apple. A unique Scotch whisky that embodies the ultimate aspiration of Ballantine's founder, George Ballantine.
Presented in a wooden cabinet, the Ballantine's 40yo bottle features an etching of the Ballantine's crest alongside Sandy Hyslop's signature, informs modiereport. World-renowned British silversmith Richard Fox has crafted five sterling silver elements to complete the presentation: the stopper, collar, seal, label and base cup. Each of these are individually hallmarked by the London Assay office, the mark of silver quality for more than 700 years.
"Ballantine's 40yo epitomises everything Ballantine's Scotch has stood for since the days of George Ballantine. The culmination of a unique heritage of producing high aged whiskies, Ballantine's 40yo will appeal to those who appreciate the experience of tasting such an exceptional whisky which is a unique part of Ballantine's history," added Ballantine's Global Brand Director Peter Moore.