The pandemic is far from over, but consumers were in a very different mindset in the second quarter compared to the same period in 2020.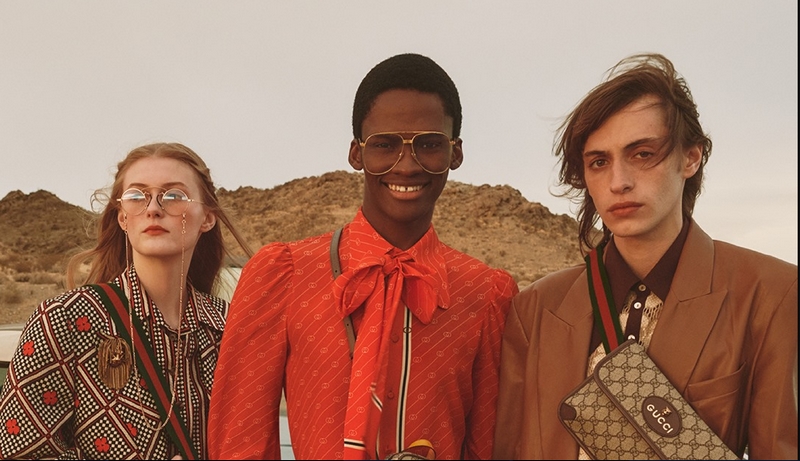 According to The Lyst Index, a quarterly ranking of fashion's hottest brands and products, searches for dresses increased 371%, sunglasses 198% and beachwear 192%, as the TSA reported the highest number of travellers in the US since March 2020. In key markets, the roll-out of vaccinations and lifting of lockdown saw demand increase for dressier styles, as well as items associated with travel and leisure.
Gucci retains its position as the world's hottest brand for the fourth successive quarter, while Dior and Louis Vuitton climb in the ranking based on the strength of the external data which The Lyst Index considers. Nike remains high on the list, occupying a unique intersection between style and sport, while Prada moves into 5th place following a succession of influencer-approved products trending throughout the quarter.
With more events and performances taking place, celebrities and influencers were also a key force for driving demand. Among the quarter's hottest products are The Attico's zebra print bikini, worn by Hailey Bieber and Dua Lipa; Rodarte's daisy print dress, seen on Kendall Jenner and Selena Gomez; and Marine Serre and Mugler's bodycon pieces, worn by Cardi B, Kylie Jenner and Doja Cat.
Gen Z is also a powerful force in fashion, with several trends associated with this cohort coming to the fore in Q2 – in many cases being adopted by older consumers too. From specific items such as Nike's Air Force One sneakers – the quarter's hottest women's product – to movements such as softcore and mermaidcore, consumers born after 1996 are often setting the style agenda. Nascent trends sometimes emerge on TikTok and other social media platforms, before spreading into the mainstream. Rubber and resin footwear is another breakout trend, with demand rising 214% quarter-on-quarter. Balenciaga and Crocs' latest collaboration went viral in June, while Gucci's rubber sandals make the hottest women's products list. The rise of gender-fluid fashion has also been gathering pace, with Thom Browne's pleated skirt and Fendi's Baguette bag appearing in the hottest men's products list; searches relating to agender fashion rose 46% during the quarter.
Normality is starting to return to some consumers' lives, but as the industry looks ahead to a post-coronavirus future, structural changes continue apace – in many cases catalysed and accelerated by the pandemic. Digital continues to be an area of rapid evolution and untapped potential for the industry, in terms of both commerce and brand building. During the quarter, a NFT-linked hoodie sold for $26,000 and Gucci hosted a virtual garden in the gaming platform Roblox, just two examples of a new dawn in fashion.
Q2 2021 Hottest Brands according to The LYST INDEX:
1. Gucci;
2. Dior;
3. Nike;
4. Louis Vuitton;
5. Prada;
6. Balenciaga;
7. Moncler;
8. Bottega Veneta;
9. Saint Laurent;
10. Versace;
11. Fendi;
12. Burberry;
13. Off-White;
14. Alexander McQueen;
15. Valentino;
16. Loewe;
17. Givenchy;
18. Balmain;
19. Jacquemus;
20. Rick Owens;
The formula behind The Lyst Index takes into account Lyst shopper behaviour, including conversion rates and sales. It also includes Google search data, as well as social media mentions and engagement statistics worldwide over a three month period.