Building at World Trade Center Site To Cost Public Agency $3.8 Billion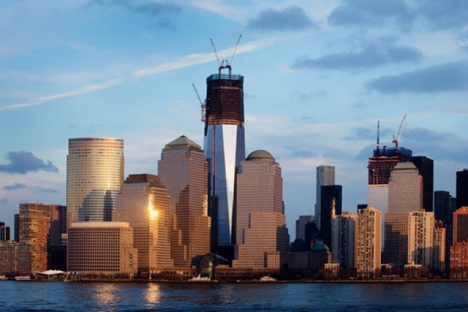 While political wars have mired the redevelopment of the World Trade Center site for most of the past decade, construction there is proceeding. The price tag for One World Trade Center, the signature skyscraper under construction at Ground Zero in New York, has risen to more than $3.8 billion, making it by far the world's most expensive new office tower, according to wsj.
One World Trade Center's construction is vastly more expensive than a traditional office tower, in large part due to security costs associated with building the tallest building in North America on a site that has been the target of two separate terrorist attacks.
By comparison, the developer of the Burj Khalifa, the world's tallest tower, in Dubai, has put its cost at $1.5 billion.
Construction of One World Trade Center has reached 90 of its 104 stories, and 4 World Trade Center, a 72-story office tower being built by private developer Larry Silverstein, has risen 61 stories. Both are slated to finish construction at the end of 2013.
When first proposed, One World Trade was expected to cost about $2 billion. The most recent public estimate, from 2008, was $3.1 billion.
From the early days of rebuilding, One World Trade Center was driven by symbolism and a desire to rebuild, rather than by its soundness as a real-estate investment.
Leasing at One World Trade has been going well. Publisher Condé Nast has signed a lease for one million square feet. The federal government and a Chinese real-estate firm have committed to take space as well, bringing the building up to about 50% leased.