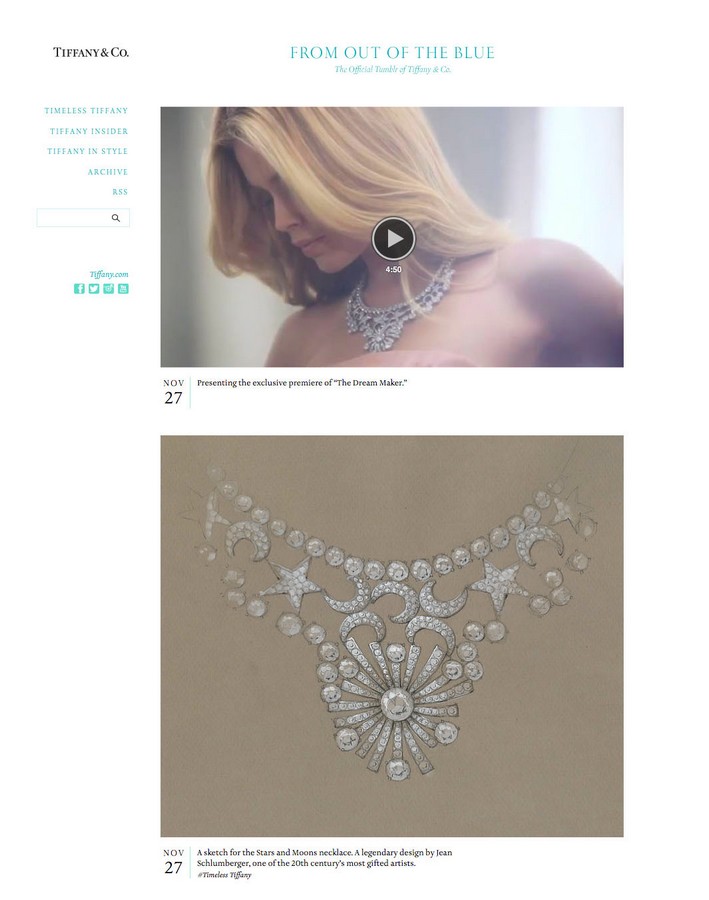 Tiffany & Co. announces a new digital initiative – the launch of new Tumblr site. The site, From Out of the Blue, captures "the 175-year heritage of Tiffany & Co., as well as the glamour and luxury that exemplifies Tiffany today". The site is organized into three themes: Timeless Tiffany, Tiffany Insider, Tiffany In Style (the latest designs in jewelry and accessories).
The site also introduces a new video, The Dream Maker, a reference to company founder Charles Lewis Tiffany and his quest for acquiring the finest diamonds and gemstones to fulfill his vision of beauty and perfection. Launched exclusively on the new Tumblr site, the video combines the talents of Oscar-nominated cinematographer Darius Khondji and composer Abel Korzeniowski, twice nominated for a Golden Globe.
For a limited time the site will feature images of The Legendary Gemstones of Tiffany, a magnificent collection of jewels with the gemstones Tiffany introduced to the world. The collection was created in honor of Tiffany's 175th anniversary.