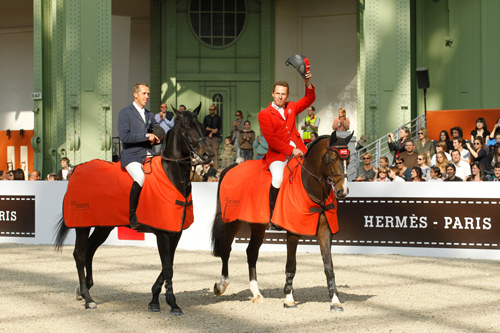 On 16, 17 and 18 March 2012, Hermès will stage the third Saut Hermès at the Grand Palais, Paris confirming its desire to revive and develop the tradition of equestrian competitions at the heart of Paris.
For this 2012 event, Hermès will be welcoming the world's top 35 riders, as well as the 20 best young European riders, who have been invited to take part in the "Talent Hermès" event initiated in 2011.
At the end of the day, the 4,000 spectators will enjoy an equestrian show created for the occasion and discover the many different facets of the world of Hermès in a series of dedicated spaces around the Grand Palais.
In partnership with the Fédération Française d'Équitation, Hermès is offering free admission for FFE members on Friday 16 March.
Since its creation in April 2010, the first Saut Hermès established itself as an event of international stature. The winners of the Hermès Grand Prix, Marcus Ehning in 2010 and Christian Ahlmann in 2011 (ex-aequo with Rik Hemeryck), were also to win the World Cup in the same year as their Hermès win.