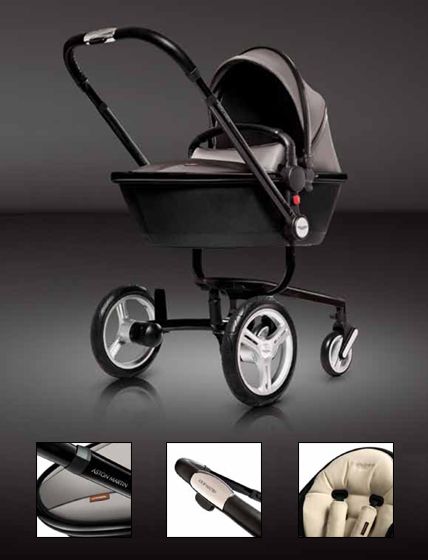 The parents who want to experience the very best with their baby right from day one can offer them an Aston Martin Edition seat unit finished in luxurious Alcantara and leather thanks to new The Silver Cross Surf, Aston Martin Edition
The legendary sports car marque Aston Martin and Silver Cross, the company that invented the modern baby carriage have come together in a unprecedented collaboration. The new Surf Aston Martin Edition issued in a strictly limited edition of just 800 pieces, was created as an exceptional environment for baby. It features Surf – Aston Martin Edition chassis finished in anodised aluminium and magnesium alloy, Aston Martin Edition seat unit, a carrycot finished in Alcantara, performance fabric and leather, Alcantara harness and buckle protector pads, winter footmuff with windproof performance fabrics, sun shade and rain shield, and a folding detachable shopping basket. The Silver Cross Surf, Aston Martin Edition is suitable from birth.
The Silver Cross company was awarded a royal warrant before founder William Wilson's death in 1913. The business was continued by his three sons, James, Irwin and Alfred and had developed extensively by 1936 when a move to even larger premises, in Guiseley, was required. Silver Cross continued its connection with the British royal family and presented special models: in 1948 for Prince Charles and in 1977 for Peter Phillips.