Every year at the occasion of the Salon International de la Haute Horlogerie (SIHH), Digital Luxury Group unveils the results of the Haute Horlogerie category (18 brands) of the WorldWatchReport, a barometer of digital intelligence for watch marketing.
The WorldWatchReport tracks the performance of 40 luxury watch brands across 20 markets, based on millions of intentions expressed by consumers looking for luxury watch related products in the world's most popular search engines. The report will be made available at Baselworld, the world watch and jewellery show.
The 2013 report is based on more than 1.1 billion anonymous and unbiased consumer intentions spontaneously expressed by watch aficionados searching for luxury watch brands online.
Compared to the previous year, the highest-end category of luxury watches, Haute Horlogerie, experienced a 7% increase in brand interest. This marks the third year in a row that the online interest of this highest-end segment of luxury watches has increased, showing the continued strength of haute horlogerie within the overall market.
Patek Philippe remains by far the leading Haute Horlogerie watch brand with 23.6% of brand interest share. Jaeger-LeCoultre takes the second spot with 12.7%, closely followed by Vacheron Constantin at 12.6%, Audemars Piguet at 9.2%% and Breguet at 7.7%.
Along with Richard Mille (see below), Vacheron Constantin and Patek Philippe also record the highest growth rates in brand interest year-over-year, with 26% and 10.2% growth, respectively
The Most Popular Haute Horlogerie brands:
1. Patek Philippe
2. Jaeger-LeCoultre
3. Vacheron Constantin
4. Audemars Piguet
5. Breguet
6. Glashütte Original
7. Frank Muller
8. Ulysee Nardin
9. Blancpain
10.A. Lange & Söhne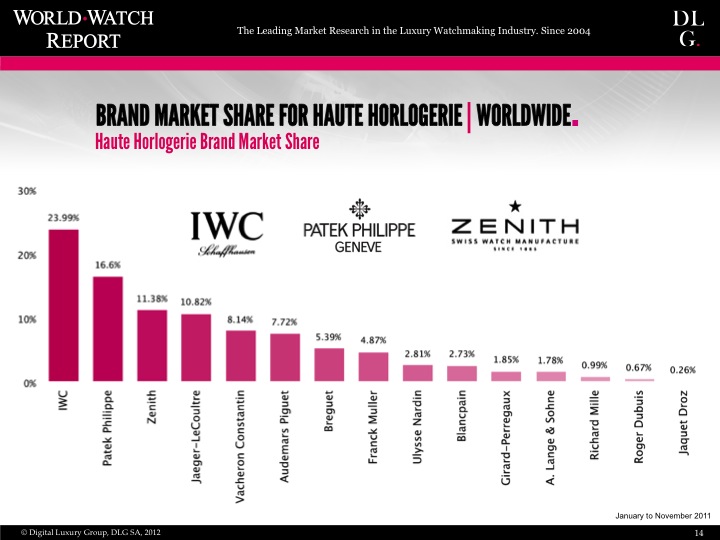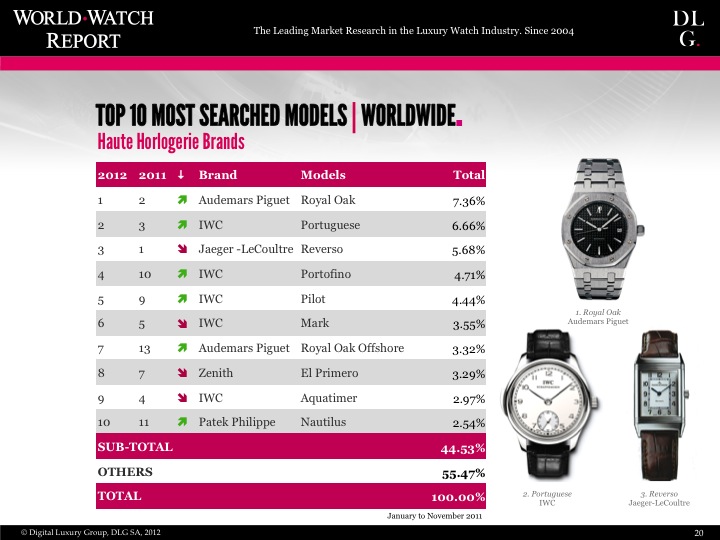 The WorldWatchReport measures and benchmarks more than dozens of indicators to analyze the performance of luxury watch brands: social media, mobile, Mobile Usage Regional Patterns, Mobile POS Demand, product range, brand distribution, Online vs. Offline Purchase Intent, client behaviour, Watch Affinity Index, brand-ambassador association, China regional searches, counterfeiting.