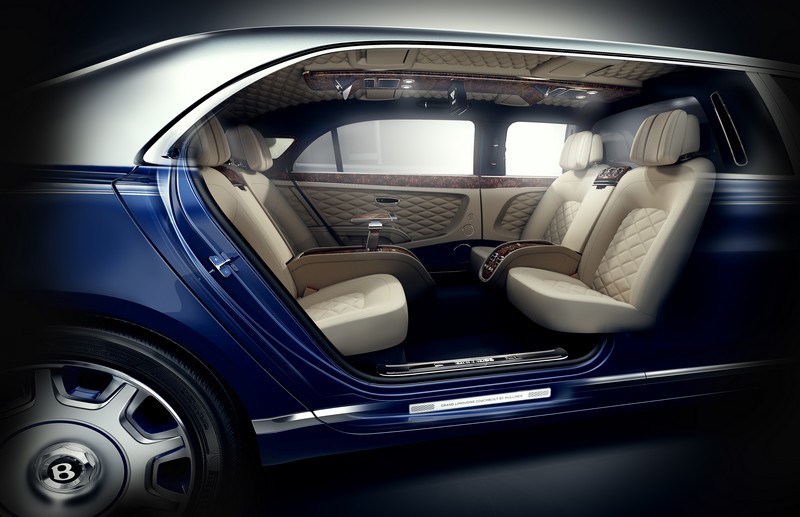 The world's press and auto enthusiasts are discovering the new Bentley Mulsanne family at Geneva Motorshow this week. Bentley surprised this year's Geneva Motor Show with a limo. At 6.57 meters, Mulsanne Grand Limousine by Mulliner, Bentley's bespoke customization division, is the world's longest and most comfortable passenger car. The new car is one metre longer and 79 mm taller than Bentley's new Mulsanne and features a unique interior with private-aviation-style seating configuration in the rear cabin.
The car features Bentley's first application of electrochromic or "smart glass" – which allows passengers to switch the interior division and rear-cabin window glass between clear and opaque at the touch of a button.
"The Mulsanne Grand Limousine showcases the exquisite craftsmanship of our in-house coachbuilder, Mulliner and exemplifies the way in which our experts consult with a customer to turn their vision into an extraordinary reality," said Wolfgang Dürheimer, chairman and chief executive of Bentley Motors.
The original brief was to build a car with four rear seats of equal comfort. The four seats – two of which are rear-facing to allow face-to-face conversation – are generously accommodated beneath a uniquely handcrafted wood-veneered roof bow within a cabin trimmed in sumptuous leather.
With the focus on the rear-cabin, a new HVAC system has been developed exclusively by Mulliner. Furthermore, the interior offers features such as iPad charging and docking stations, as well as veneered fold-out tables, a bottle cooler with frosted glass and crystal flutes, and a soft drink cabinet with bespoke tumblers. Bentley's first bespoke stretch limousine has an intercom system to communicate with the driver and unique controls for the rear features.
The Flying "B" mascot is engraved with the words "Coachbuilt by Mulliner" – which stands above a unique iteration of Bentley's iconic chrome grille and lower bumper grilles, designer specifically for this car.
In accordance with enhanced dimensions, the Mulsanne Grand Limousine by Mulliner is fitted with a fully engineered powertrain, transmission and a re-engineered chassis and suspension, guaranteeing the highest possible degree of passenger comfort and safety in the longest ultra-luxury sedan in the world.