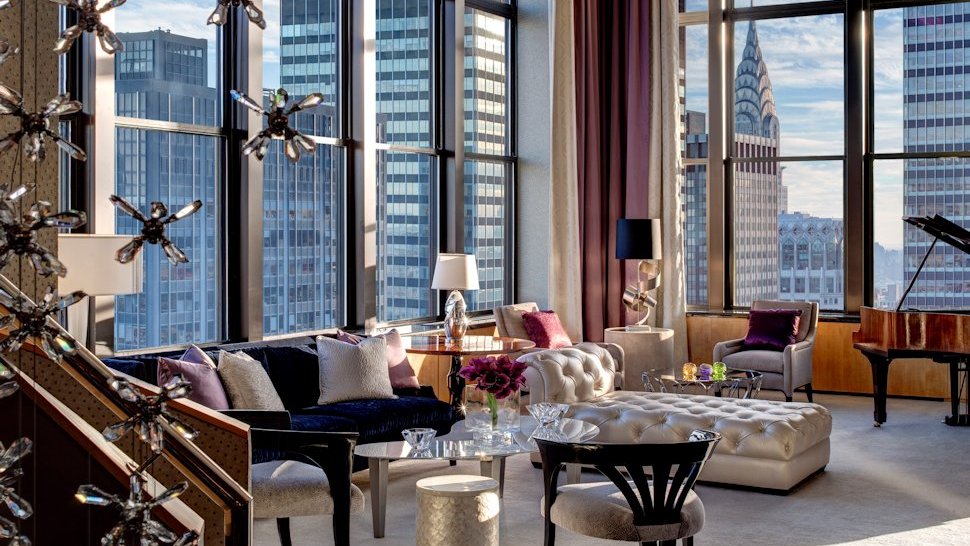 The luxurious New York Palace is the only hotel that will give you a diamond ring with your stay. The New York Palace completed its $140 million renovations with the unveiling of its two specialty triplex suites, including The Jewel Suite by Martin Katz and The Champagne Suite. For $25,000 a night to stay at The Jewel Suite by Martin Katz the luxury hotel will throw a diamond ring in the deal.
Each guest who books the Jewel suite at its nightly rate will receive an original Martin Katz Diamond Microband Ring, with a retail value of $2,500. Guests can also arrange for rare access to Katz for private showings, design consultation, and custom jewelry creations.
Sure to result in a resounding "I do!" The New York Palace has also created The Ultimate Proposal Package including accommodations in the Jewel Suite by Martin Katz; private consultation with Mr. Katz for the creation of a custom-designed engagement ring and/or wedding band; and a customized private dining experience for two on the breathtaking rooftop terrace. Rates for the package begin at $50,000 per night, based on custom jewel pieces.
The Suite by Martin Katz is adorned in rich fabrics and glittering jewel-inspired tones and finishes to create an atmosphere suggestive of luxury and romance. The experience begins when guests step into the Jewel Suite, encountering lavish Port Laurent stone floors, diamond-like wall coverings in soothing jewel tones, a stunning 20-foot 'diamond waterfall' chandelier, and 'floating' crystal jewel boxes encasing distinctive jewelry creations by Martin Katz – a permanent installation of the stunning foyer art and design. The sprawling Grand Parlor is flooded with light from the suite's floor-to-ceiling windows, highlighting the grand piano sitting center stage.
The Master Bedroom on the second floor continues the jewel theme, creating an especially intimate experience. Art Deco-inspired chairs are sumptuously upholstered in lavish silver and pearl velvet, while a custom-designed Lucite tableau showcases spectacular jewels. The romance is taken to new heights on the suite's third floor with one of the few wood burning fireplaces still available in a New York City hotel. On warmer evenings, guests can opt to take in the city views from the spa installed on their private outdoor terrace.
The Champagne Suite was designed by notable New York-based design firm BBG-BBGM, led by Interiors Partner and Principal Designer Amy Jakubowski. The Jewel Suite by Martin Katz was designed as a collaboration between renowned jeweler to the stars, Martin Katz and BBG-BBGM.