High-end brands to Bring Immersive Sound Experiences To The Sea On Board The Innovative WallyWhy200.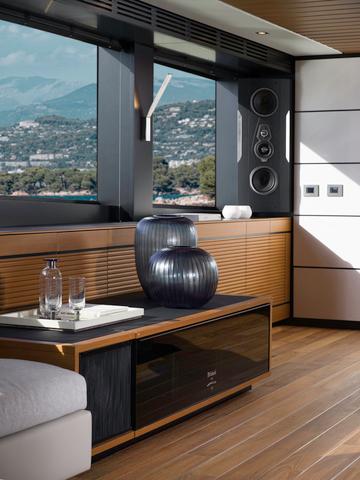 Wally Announces Collaboration With Sonus Faber and McIntosh.
Wally Yachts announce its new collaboration with McIntosh and Sonus Faber, market leaders in offering distinguished quality audio products and the ultimate experience in music and film and superior customer service.
Wally, McIntosh, Sonus faber are known for their aspirational performance, product quality, detailed design, technological advancement, and elevated consumer experience and meticulous craftsmanship. This collaboration marks the first high-performance custom installation system offered by the brands for the marine market.
"Entering the marine industry has been top of mind for us for quite some time" said Fiore Cappelletto, Vice President and General Manager of Automotive and Marine at McIntosh Group. "After gaining experience in the automotive industry, paired with our company's consistent development of quality performance custom installation audio (as we lovingly call "Ci-Fi"), the time felt right to enter the exhilarating market, and we couldn't be more grateful to have found a perfect ally in Wally. We are extremely excited for the future of this collaboration, celebrating the common pillars and shared passion from Wally, McIntosh and Sonus faber, all in the pursuit of high-end experience and the highest performance available in the market."
All the high-end brands placed a strong emphasis on developing technical solutions that combine form and function, while further ensuring an elevated aesthetic for the discerning clientele. Each of the yacht systems are customized to fit the acoustics of its installation area.
"We developed a bespoke solution in cooperation with the Wally team, combining the finest audio solutions with interior design that allow to create among the best CI-FI experience ever. The concept is to transfer all the audio knowledge of McIntosh and Sonus faber onboard, giving the customers the unique opportunity to live the excitement of a movie theater on their yacht and be fully immersed in the heart of the action," shared Roberto Gamba, Business Developer CI at McIntosh Group. "Our real challenge was to create something truly unique, so we integrated the audio system seamlessly into custom furniture, walls, and cabinets, specifically tailored to meet Wally's vision."
The systems are powered by High End audio technology trademarked by Sonus faber's D.A.D. Tweeter Damped Apex Dome, Paracross Topology, and McIntosh's Power Guard and TripleView Power Output Meters. The audio brands executed extensive stress tests, product validation processes, and tailored calibrations on each and every system to confirm its delivery of McIntosh's extreme power and Sonus faber's most natural sound within the yacht's environment for unparalleled sonic perfection at sea.