4C Spider Design Preview unveiled by Alfa Romeo at 2014 Geneva Motor Show.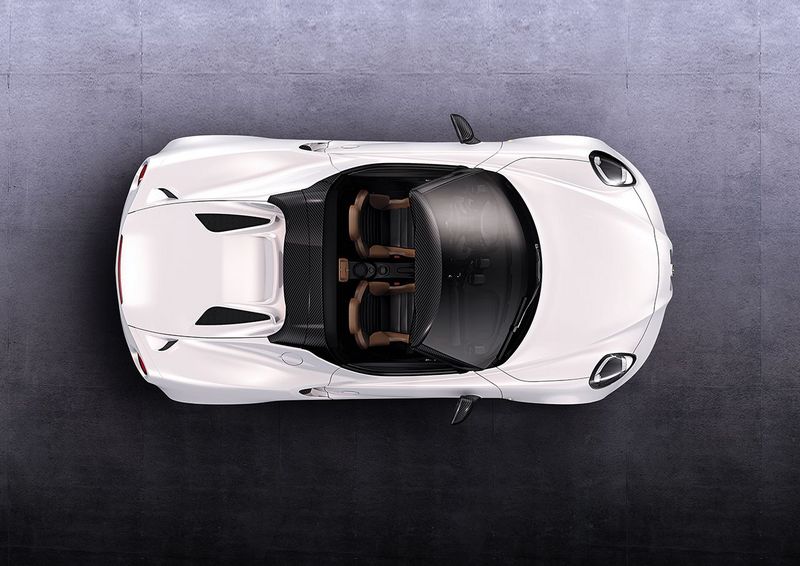 Spiders have always occupied a prime place in Alfa Romeo's heritage because they are the freest and most emotion-driven expression of motoring. At last year's Geneva Motor Show, Italian premium car manufacturer unveiled the production version of the 4C. For 2014, Alfa Romeo presents the convertible evolution of the award-winning coupé, tentatively called the 4C Spider Design Preview.
Characterised by special details and distinctive finishes, the preview is an exercise in style aimed at selecting the contents to be implemented in standard production scheduled for the beginning of next year.
Besides chopping the roof off the car, Alfa Romeo offers exclusive three-layer shiny white livery combined with top-quality leather upholstery, mid-engined rear-wheel drive configuration and a real two-seater concept, a dual-stage central exhaust system with titanium and carbon tailpipe, clamshell headlights, new differentiated diameter 18″ and 19″ alloy rims, and specific carbon windscreen ring and roll-bar cover. The exhilarating performance is delivered by the 1750 turbo petrol four cylinder engine and Alfa TCT.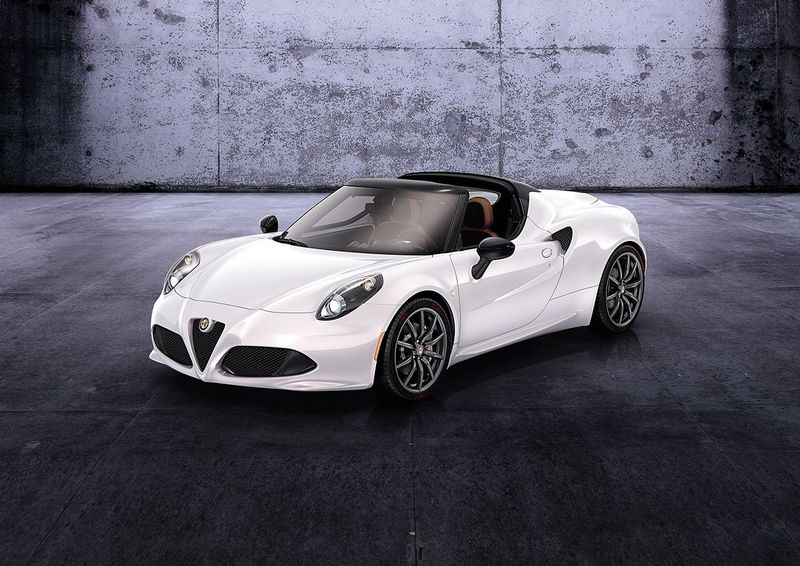 The preview of the Alfa Romeo 4C Spider is equipped with the DNA selector. This device lets the driver change the car's temperament to adapt it to the conditions it is subjected to at the moment. In addition to the three settings available up until today – Dynamic, Natural and All-Weather – the device built for the Alfa Romeo Supercar has a fourth mode: 'Race', designed to enhance the driving experience on a track even further.
The carbon fibre in the interior immediately stands out, used to make the central cell, which has been left in full view.
Thanks to the quality of the '4C coupé' project and its carbon chassis, the 4C Spider too will guarantee a category- leading power/weight ratio with striking performance thanks to a total dry weight of less than 1,000 kg. This is demonstrated by the glass rear window too, which was replaced with a continuation of the bodywork in SMC (Sheet Moulding Compound) which houses the headrests and roll-bars. It must be stressed that low-density SMC, at just 1.5 g/cm³, is significantly lighter than steel (~7.8 g/cm³) and aluminium (~2.7 g/cm³), as well as being more malleable. Also, in contrast to aluminium, it does not deform in minor collisions, and is extremely resistant to chemical and atmospheric agents. It also disperses sound efficiently, increasing acoustic comfort.