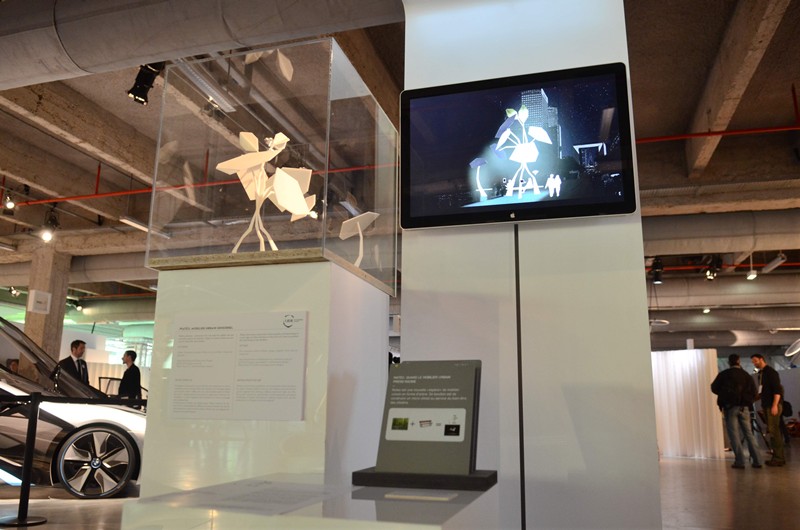 They anticipate things to come and create an exciting future. 1,618 Sustainable Luxury Fair gathered the visionary talents in the "Prospective Innovation Space". This section of the Parisian event dedicated to sustainable luxury development allows visitors to grasp the planetary challenges ahead, through prospective, inspirational and discovery installations.
The By Volta agency, specialized in sensory design, has thought up a participative area, together with Spirops (artificial intelligence software) and Bakasable (interface designer).
By Volta presented a new installation "Smart Cocoon". This playful voting area questioned the visitor: each time an object or project is approved by the public, a green avatar will materialize and go up to the object in question. A red avatar will appear after critical votes. On the last day of 1,618 Sustainable Luxury Event all the avatar came together and announced the public's favourite object.
By Volta presented also Mateo street furniture made in collaboration with Jakob + Marfarlane and What Time.
Half-plant, half tree, Mateo is an urban furniture, at a time sensitive and interactive. It creates a microclimate. Its digital foliage offers comfort, diffuses sound and light thanks to the energy it captured during the day. The creators of this urban furniture say that Mateo is responding to the enviroment and climate change, offering the best conditions for rest in the city. During summer it brings fresh and cool air, while in winter it offers heat and shelter. These city spots that host the imagination like a child's hut invite to the slowness and contemplation, offering a city break, a lock decompression, in a place focused only on speed and performance.
The Smart-system company – an entity created to give birth to ideas and encourage the swift emergence of innovative projectors in the sector of creative economy- also offered during 1,618 Sustainable Luxury Fair a selection of projects. In the entire event, the Smartsy app, created by Smart-system, offered visitors detailed information on the different exhibitors.