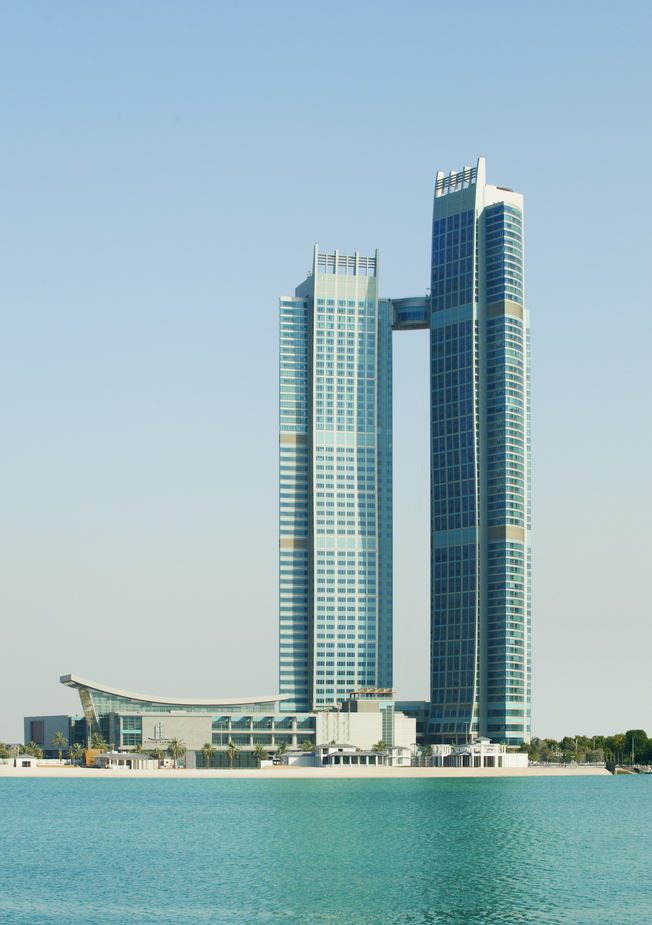 In August, Stawood Hotels & Resorts unveiled the largest hotel suite in the United Arab Emirates (St. Regis Saadiyat Island Resort). Two months later, the luxury hospitality group announced the debut of St. Regis Abu Dhabi – the brand's second hotel in Abu Dhabi boasting the world's highest suspended hotel suite. The 11,600-square foot (1,078-square meter) suite connects the two skyscrapers and can be seen from ground level bridging two towers of the Nation Tower.
The St. Regis Abu Dhabi boasts the world's highest suspended hotel suite, the first Gary Rhodes' restaurant in Abu Dhabi and the first Hommage Gentleman's Grooming Atelier in the United Arab Emirates. Designed with the colours of the local sands, the traditional cuisine and souks in mind, Hirsch Bedner Associates (HBA) has imagined a luxurious setting in Abu Dhabi that is steeped in a sophisticated Art Deco past.
The extravagant Abu Dhabi Suite is positioned a lofty 650 feet above ground between the two towers and offering magnificent panoramic views of the Arabian Gulf, the Corniche and the city skyline. Spanning over 11,600 square feet, the suite combines contemporary design with a traditional Arabic influence. The opulent suite features cascading strands of crystals, 24-carat gold leaf accents, leather wall tiles, jewel-toned velvet upholstered walls and intricate glass mosaic patterns. The Abu Dhabi Suite features three bedrooms, a grand majlis with a soaring ceiling, luxurious spa and movie theatre as well as a kitchen, dining room, fully-equipped gym and private elevator access.
"We are thrilled to introduce the brand's second St. Regis hotel to Abu Dhabi – a destination that St. Regis guests, a new generation of luxury travellers, have recognized as being at the crossroads of culture, business and leisure," said Paul James, Global Brand Leader, St. Regis Hotels & Resorts, The Luxury Collection and W Hotels Worldwide.