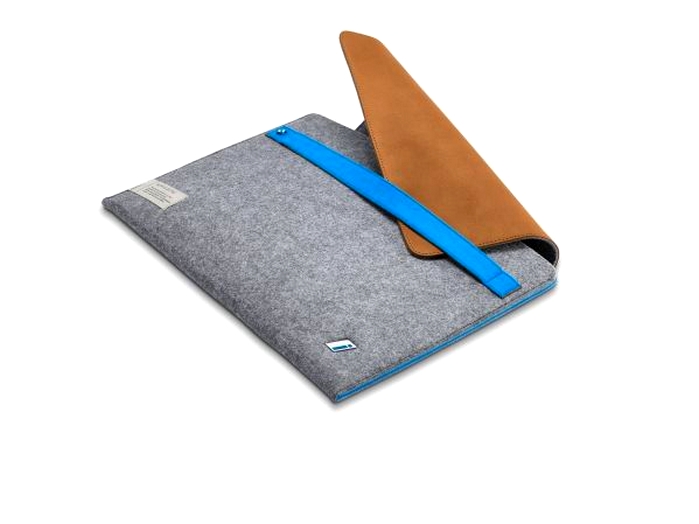 Clear design and the responsible handling of resources inspired the i-edition of the new BMW Lifestyle Collection: the BMW i Collection. The BMW i Collection is inspired by the ideas behind the i-concept –– a new range of vehicles built by BMW, that will feature electric or hybrid power trains. If it applies to the electric vehicles, then it goes for the lifestyle products too – Solar Charger, Urban Mega Shopper or Laptop Bag: all of them visionary,ecofriendly and urban.
Leather tanned using olive leaves and a felt-look fabric made from recycled PET – those are the materials from which the BMW i Urban Mega Shopper is made. This bag has blue chord handles – also made from recycled PET. The Shopper's main compartment can accommodate a matching BMW i Laptop Bag. In one of the Shopper's secondary compartments you can stash your BMW i Ballpoint Pen, a writing implement which the BMW i Collection's developers made eco-friendly, just like the BMW i Notebook. The latter has a two-tone cover made from recycled felt-look fabric, which can be changed easily using its inner loops.
The Solar Charger lets you charge, store and dispense energy. This upmarket solar device in a BMW i logo design may be very compact, but it has a big charging surface and harbors an integrated rechargeable battery. It comes with a charging cable that has a range of different slot-on connectors, allowing you to charge mobile devices and MP3 players without burdening resources. If you need faster charging from time to time, then a USB port lets you supply the unit's battery with power without a light source – from a laptop for example.
The BMW i USB Stick helps you transfer data on the move and holds 16 gigabytes inside its matt, aluminum-look body, which features an "electric-blue" BMW i logo. Thanks to its integrated ring it can be attached securely to the BMW i Lanyard so that it's always at hand. The Lanyard consists of a blue chord made from recycled PET and a plant-tanned leather label. But if you prefer not to carry your keys on a lanyard, then BMW i Edition offers you a BMW i Keyfob instead.