"Through all we do, we are Rooted In Exception. It makes us unique and uncompromising." 
Mixed Reality provides an amazing medium for storytelling. Rémy Martin is thrilled to announce the global launch the "Rooted In Exception" mixed reality experience using Microsoft HoloLens technology. The Rémy Martin mixed reality is also one of the very first HoloLens experiences that is designed for consumers around the world.
The experience was created in partnership with Kazendi, Europe's leading HoloLens development studio, to allow consumers an entertaining yet educational opportunity to learn how the luxury consumer brand, Rémy Martin, is "Rooted in Exception," most notably through specializing in making Cognac Fine Champagne.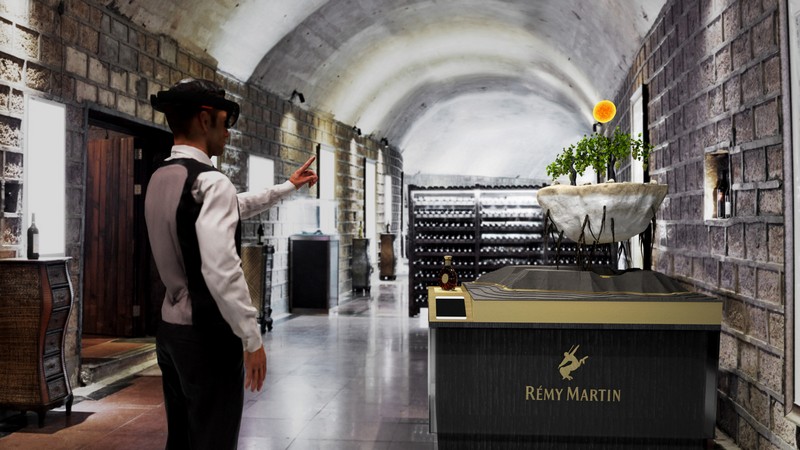 Microsoft HoloLens is the first self-contained, holographic computer, enabling people to engage with virtual content and interact with holograms in the world around them. Instead of locking up people in a virtual world, mixed reality brings people, places, and objects from physical and digital worlds together. It combines the thrill of virtual reality with the power to engage with and personalize current surroundings.
The user is invited to approach a three-dimensional table on which the HoloLens projects elements of Cognac Grande Champagne and Cognac Petite Champagne vineyards. These two regions, of the six, make up the heart of the Cognac region, Fine Champagne. The mixed reality experience is also accompanied by the voice of Baptiste Loiseau, the Cellar Master of the House of Rémy Martin, where he explains the importance of the terroir in the Fine Champagne region.
"Ultimately, mixed reality is deeply about engaging people in new social experiences. We are thrilled to launch our first consumer brand experience using HoloLens with Rémy Martin, who, although an almost 300-year-old brand, keeps on nourishing its exception and tradition through innovation" stated Maximilian Doelle, Founder and Chief Holographic Officer of Kazendi.