Designers rework Queen Elizabeth's crown. Their own versions of the St. Edward's Crown
Celebrating the Queen's Jubilee at Harrods in London, 31 one-off crowns made exclusively by an array of iconic British and international designers are displayed in the Harrods window till June 10, 2012. A perfect tribute to Her Majesty.
Each of the designers put his distinctive mark on the St. Edward's Crown. Bulgari, Paul Smith, Lanvin Mulberry and Valentino are just some of the luxury brands to have reinterpreted the crown, addorned now with 974 diamonds (De Beers), a chapeau (Roberto Cavalli), snakes (Bulgari & Boucheron), or caviar polish / mosaic (Mulberry).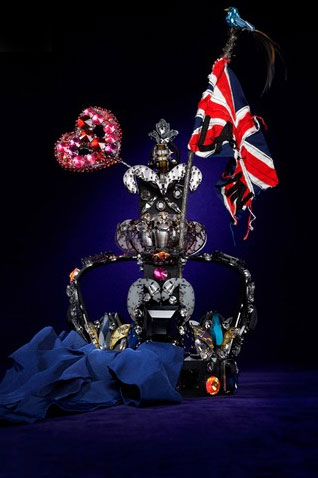 Inspired from the embroidery of Lanvin's last collection, the Lanvin;s crown consists of a mixture of modern plexi glass and crystal in traditional motifs. Perfectly defining the Queen's history – a reflection of tradition and modernity. Last but not least, the installation is complete with a Lanvin Union Jack flag in grosgrain.