Blackshape Aircraft's Prime – pilot innovation and excellent craftsmanship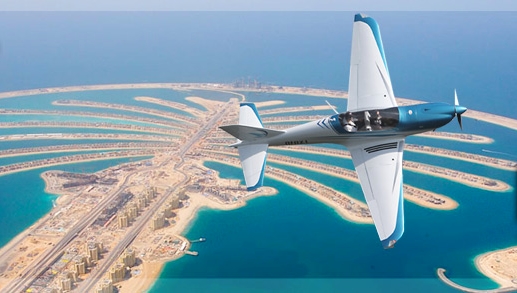 Blackshape Aircraft's Prime plane is a revolutionary ultra-light aircraft featuring a full carbon fiber frame, which makes for an extremely strong and low weight aircraft. The unparalleled, standard safety features and specially designed 4-spar cockpit ensures pilots will fully enjoy the high speed and agility that the Prime was built for. The advanced diagnostic module, unique in its kind and specifically designed for the makers of Prime, monitors parameters during flight and presents pilots with both in-air and post-flight reports on the status of the aircraft.
Prime aircraft combines sportiness with versatility and creates a flying experience like no other. Focused on power, speed, control, luxury and freedom, Prime is the perfect aircraft for those looking to pilot innovation and excellent craftsmanship.
Whether it's a sport aircraft enthusiast who lives life to the fullest, an experienced pilot who seeks unparalleled control and power in a light sport aircraft, or the executive looking to harness productivity through increased mobility and reduced travel time, Prime is the plane of choice.
Inspired by Bepi Vidor, the thrillingly nimble Prime's sleek styling and advanced computer modeled body constructed entirely in composite materials offers sport plane enthusiasts the maximum in comfort and control.  Designed for sport aviation, its advanced structural calculus combined with the composite material results in an aircraft that is extremely compact and lightweight while exceeding performance expectations in its class.
The Prime cruises at 275 km/h (75% power) and has a speed at maximum continuous power of 300 km/h.  Exceptional take off and landing performance, coupled with the ease of handling and extremely sturdy landing gear, allow for use on short runways (150m takeoff and landing) including those that are unpaved surfaces or short grass.
State of the art computation and modeling tools were intensively used in the design of this aircraft to optimize, among other things, comfort, making both cockpits roomy enough to fit even 95th percentile pilots.  The aircraft's ergonomic seats provide comfort on long trips, while the position of the back passenger's seat provides optimal visuals and effectiveness when flying tandem.
Blackshape is located right in the middle of the Apulian Aerospace District, unique in its concentration of aerospace know-how.  All of Blackshape's suppliers are located in the area, from its avionics packages to its carbon fiber, mechanics and interiors.  Some of the world's largest aerospace suppliers are found in this area who, aside from Blackshape, count as their clients Boeing, Augusta Westland, Bombardier, Embraer, Airmacchi and others.