By Philippe Mihailovich and Caroline Taylor.


If you love the fashion and jewellery that can be found at the visionary Parisian under-the-radar fashion outlet, l'Eclaireur or in the equally under-the-radar fashion jewellery outlet, Mad Lords -opposite Paris' not so secret concept-gadget store, Colette – then you are likely to have discovered the amazing Medieval-like rustic creations from Andy Henson and Brent Gold.
Sharing a universe that recalls the neo-goth Rick Owens looks and the Game of Thrones, this stunningly 'imperfect' and soulful, trendy mens' jewellery range from Australia is rocking Paris.
With hand carved, raw and organic creations that feel as if they have been around since the beginning of the Iron Age, yet timelessly contemporary, the duo are creating pieces that feel as if they have always had a long story. Far from the classic haute joaillerie traditional classics found on the Place Vendome, the creations are not trying to create fine pieces to a perfection required by conservative customers, instead they are pleasing the bold fashionable set who do not fear tattoos or piercings and other primal identity markings.
Even when they are required to work with precious stones, they would prefer the stones to be imperfect and as far from industrialised, commercial jewellery as possible. Each piece will have its own personal scars as traces of the creators, symbolic of hammering out metals, chains and clasps with raw hammers and primitive files.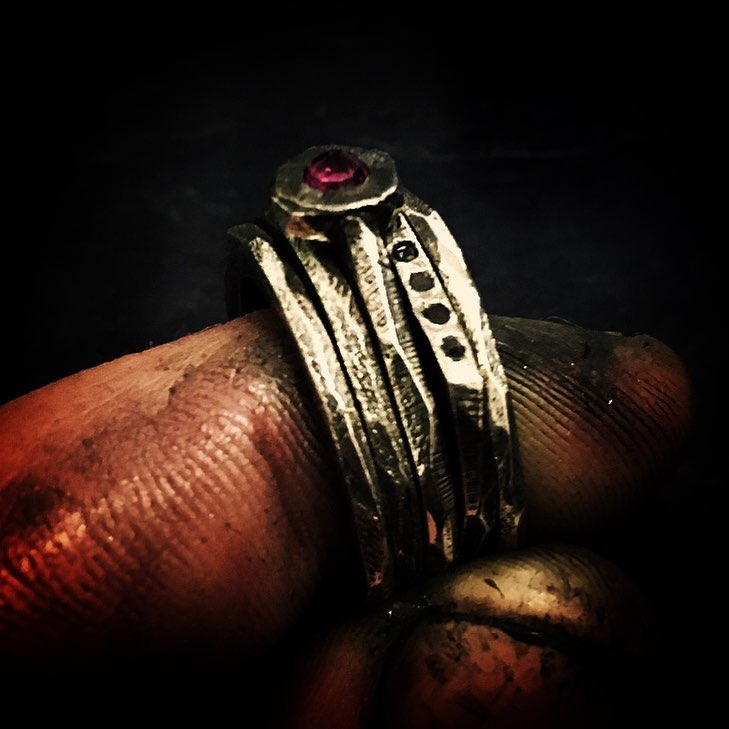 "Roughness and rugged imperfections shape our sincere aesthetics" they say."We aim to imbed our process in each piece, as a silent reminder of the surveyed journey of our source materials. Hands are the true conductors of the atelier, materials pass through them and are diligently adjusted, set or moulded. Such composed individual creation, allows for a truly organic process, that shapes each product individually. Something that machines can never strive to replace. We seek to reflect the true meaning of creation; to craft a product that need not explain its existence. Singular, profound and expressive designs that speak without shouting."
"Forged, wrought and shaped, each single piece is subjected to a highly intensive process", they suggest. "
Every phase takes hours of patient and diligent attention.
From the experimental treatments and meticulous polishes to hand-crafted chain links, to soldered connections, kiln casts and oxidisation forms, we carefully guide each individual process. Heirloom stones, reworked silver, salvaged mammoth bone and antique horn, form the atelier's primal foundation. These are substances belonging to previous generations."
We hope you will enjoy the video interview with this talented duo filmed in Paris during the Fashion Week and Tranoï trade fair and that you will be as enthusiastic as we are about their work.