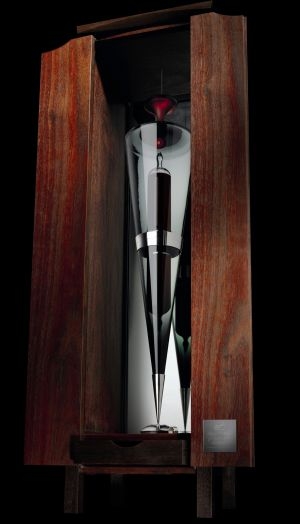 To celebrate the provenance of truly extraordinary wine, Australian winery Penfolds have released a $170,000 limited edition glass Ampoule, containing 2004 Kalimna Block 42 Cabernet Sauvignon – a rare wine in a truly distinctive format.
Nick Mount (Glass Sculpture Artist), Henrick Forster (Silversmith), Andrew Bartlett (Furniture craftsman) & Ray Leake (Scientific Glass Blower) have committed hours of time and years of experience to bring a distinctive objet d'art, a hand-blown glass "ampoule" with one of the most expensive Australian wines released in this unique format. The high-priced vintage can only be opened by a specially-trained wine expert.
"The wine contained within the ampoule, first released in the 1950s, holds a particular significance among generations of Australian and international wine collectors," Penfolds said in a statement.
The glass sculpture was designed and hand-blown by Nick Mount, an internationally recognised glass artist. To encase the ampoule, Nick has designed and hand blown a conical, elongated plumb-bob of transparent grey glass with a ruby red 'cotton-reel' top. The plumb-bob is suspended in a bespoke Jarrah cabinet, with the ampoule held securely at its core.
The Penfolds Ampoule is not only a compelling work of wine art – it also provides a truly memorable experiential and sensory engagement. When a decision is made to open the ampoule a senior member of the Penfolds Winemaking team will personally attend a special opening ceremony for the owner (essentially your very own master-class). The winemaker will travel to the destination of choice, where the ampoule will be ceremoniously removed from its glass plumb-bob casing and opened using a specially designed, tungsten-tipped, sterling silver scribe-snap.The winemaker will then prepare the wine using a beautifully crafted sterling silver tastevin.
Each Ampoule is accompanied by a unique 'Making Of' booklet and Certificate of Ownership & Authenticity signed by Chief Winemaker Peter Gago and all contributing artists.