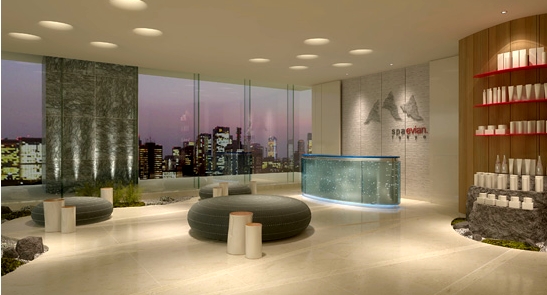 Occupying 1,200 square meters of space, the Evian SPA at Palace Hotel Tokyo will be the first ever in Japan — and a future must for wellness in Tokyo. Palace Hotel Tokyo opens May 17th in Marunouchi on a stunning, moat-side setting by the Imperial Palace.
In a country not otherwise known for its spa culture, the hotel is cutting the ribbon on the first ever Evian SPA in Japan. And its ownership, management and service standards are Japanese through and through.
"There is only one Tokyo, and there will only be one experience like the Palace Hotel," said Takashi Kobayashi, the company's president. "From the Aji stones at our entrance to the linens in our guest rooms, from the omotenashi at first encounter to the general management, we're celebrating an unfiltered appreciation of our country's culture."
Evian SPA's five treatment rooms, one spa suite and separate ladies' and gentlemen's relaxation lounge form the heart of the city's most ambitious new spa. Its gentlemen's spa area features a heated bath, reclining bath, cold plunge and dry sauna, and the ladies spa area includes a heated bath and marble sauna.
The spa's design is a metaphorical reflection of the journey evian natural mineral water takes through the Alps, from the loose stone garden at reception signifying the water's source (mountaintop) to the ceiling of the treatment rooms reflecting ripples in a pond. Inspired by the same, the spa's menu will encompass treatments themed around celestial restoration, mineral enrichment, precious nourishment and renewed vitality. Products by Omnisens and Anne Semonin will be incorporated throughout.
The Vitalising Signature, a treatment exclusively created for evian SPA TOKYO, starts off with Japanese trigger point-style bodywork to improve the flow of Qi throughout before a Swedish-style deep tissue massage is applied to release tension and 'trigger' the body to naturally restore its own balance from within.
Beyond the spa, the hotel's fitness facility is open around the clock, featuring exercise equipment by Technogym and Life Fitness. The hotel's indoor pool is 20 meters long and three lanes wide, and framed on one side by wall-to-wall windows and an outdoor terrace.
The new Palace Hotel Tokyo succeeds two previous hotels, the Hotel Teito and Palace Hotel that occupied the same site from 1947 and 1961 respectively. Each was razed to make way for its successor.Palace Hotel Tokyo is a member of The Leading Hotels of the World.