Italian mega yacht Ottancinque by Pininfarina debuts at Monaco Yacht Show 2015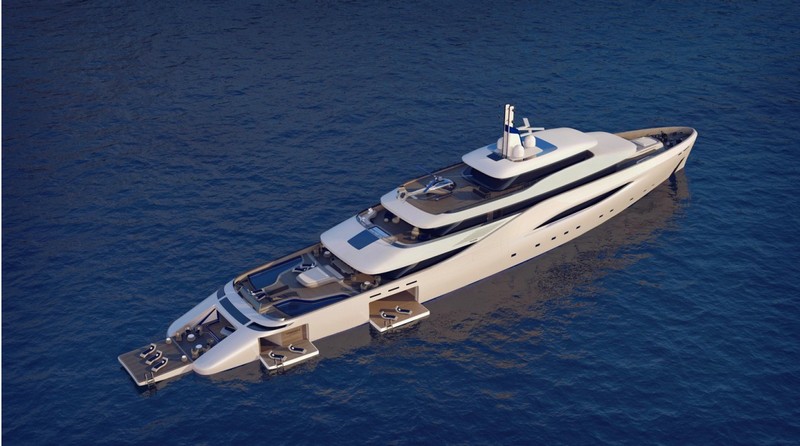 "Ottantacinque" is the ambition of creating an Italian mega yacht, technologically advanced, with essential lines, comfortable and of absolute beauty.
At this year's Monaco Yacht Show, leading Italian mega-yacht maker Fincantieri and famous styling studio Pininfarina introduced the "Ottantacinque" concept of a latest-generation luxury mega yacht.
"Ottantacinque" is a cutting-edge mega yacht, 85 meters long, 2,460 gross tons, with 5 decks, each of which featuring technological solutions and exclusive interior fittings. Among the most significant details, the couple of twin pools on the main deck raised almost flushed with the side bulwark, which offer, together with an elevated sun bed, uninterrupted views on the sea. With the adjustable bottom, the water depth can be varied and even reduced to zero to create a large open platform spanning over 160 square meters.
At the stern, the Owner's deck offers a spacious, configurable veranda by day with a sun bed and tables that become a lounge. The luxurious infinity pool is the perfect spot for gazing unhurriedly over the sea. The bow features a generous private veranda for the Owner with dining area, lounge and a Jacuzzi with an ample integrated sun pad. The bridge deck incorporates a helipad with direct access to the lobby via the central lift and stairs connecting the yacht's various decks. Moving from one deck to another provides an extra sensory experience: the lift and the spiral staircase linking the different decks are naturally lit by a skylight on the roof deck that creates an enchanting play of light.
"We already are among one of the few mega-yacht builders managing all the business activities, from sales to the product life cycle," said Giuseppe Bono, CEO of Fincantieri. "Now, thanks to this stunning project, resulting from the partnership with Pininfarina…we are a real Italian point of reference in a market that, as all luxury niches, highly demands the capacities and taste of our country."
"The result is a sculptural floating home with elegant and dynamic areas, where style meets function, aerodynamics, on-board comfort, ergonomics. Every detail is designed to harmonize with the aesthetic theme of the yacht," said Paolo Pininfarina, Chairman of the Pininfarina Group.
"A custom-built model of the sea, in line with Pininfarina's natural vocation in creating exclusive projects, combining tradition with innovative solutions. This is how our design team conceived the collaboration with Fincantieri Yachts" Pininfarina's Chairman commented.
The Pininfarina Group has been operating in the marine sector since the Sixties, leaving a lasting mark of its style on countless projects, from "one off" models made for special customers, to design activities of topsides and interiors for limited or wider series, both sail and motor boats.