Apple unveiled 'new iPad' with sharper screen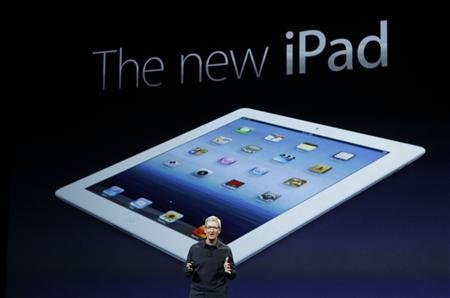 Apple introduced the third generation of iPad featuring new Retina display, Apple's new A5X chip with quad-core graphics and a 5 megapixel iSight camera with advanced optics. Apple's new iPad model, with a sharper screen and a faster processor, will go on sale in the U.S. and six other countries on 16 of March. A week later, it will go on sale in 25 more countries.
"iPad with Wi-Fi + 4G connects to fast networks worldwide, including AT&T's and Verizon's 4G LTE networks, and still delivers the same all-day 10 hour battery life while remaining amazingly thin and light. Beginning today, iPad 2 will be offered at an even more affordable price starting at just $399," said Apple in a press statement.
"The new iPad redefines the category Apple created less than two years ago, delivering the most amazing experience people have ever had with technology," said Philip Schiller, Apple's senior vice president of Worldwide Marketing. "The new iPad now has the highest resolution display ever seen on a mobile device with 3.1 million pixels, delivering razor sharp text and unbelievable detail in photos and videos."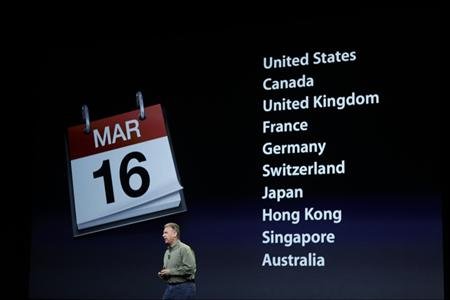 Apple is keeping iPad 2 model in production. According to Associated Press, that could help Apple regain some market share from cheaper tablets like Amazon.com Inc.'s $199 Kindle Fire. Samsung Electronics and other makers of full-size tablets have cut their prices to below $500.
The new iPad's Retina display delivers four times the number of pixels of iPad 2, so dense that the human eye is unable to distinguish individual pixels when held at a normal distance, making web pages, text, images and video look incredibly sharp and realistic. The 3.1 million pixels in the Retina display are more than one million more pixels than an HD TV, and with 44 percent increased color saturation the new iPad displays colors that are unbelievably richer, deeper and more vivid. Movies are now capable of playing at full 1080p HD-resolution, delivering an incomparable viewing experience on a mobile device.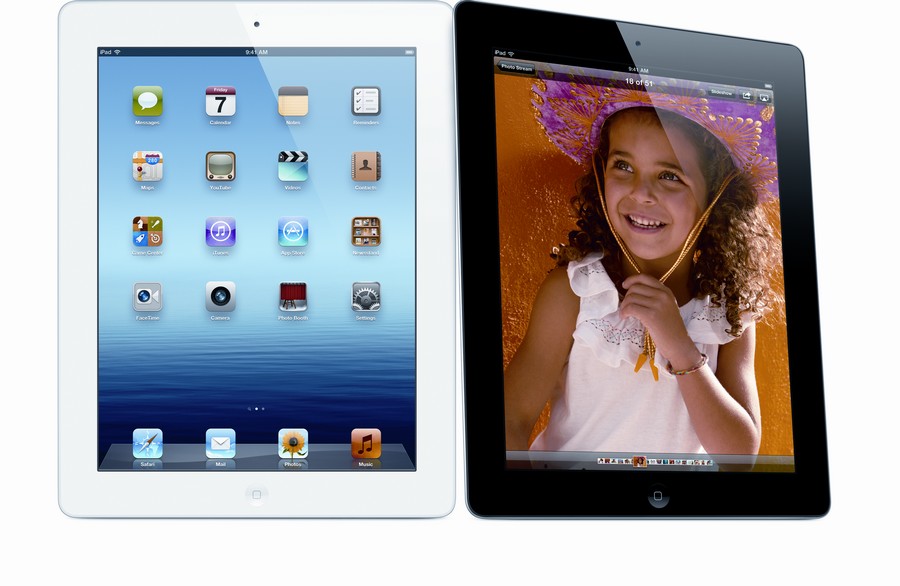 The new iPad also supports dictation, another way to get things done just using your voice. Instead of typing, tap the microphone icon on the keyboard, then say what you want to say and the new iPad listens. Tap done, and iPad converts your words into text. You can use dictation to write messages, take notes, search the web and more. Dictation also works with third-party apps, so you can update your Facebook status, tweet, or write Instagram captions.
The new iPad Wi-Fi models will be available in black or white on Friday, March 16 for a suggested retail price of $499 (US) for the 16GB model, $599 (US) for the 32GB model and $699 (US) for the 64GB model. iPad Wi-Fi + 4G for either AT&T or Verizon will be available for a suggested retail price of $629 (US) for the 16GB model, $729 (US) for the 32GB model and $829 (US) for the 64GB model.