UNESCO adds 14 entries to 'intangible heritage' list, including Portugal's Fado, urban popular song of Portugal, and Mexican Mariachi string music, song and trumpet.
UNESCO Intergovernmental Committee for the Safeguarding of Intangible Heritage has added 14 new items to the List of Intangible Heritage in need of urgent safeguarding:
They include Mibu no Hana Taue (ritual of transplanting rice in Mibu – Hiroshima); the Al-Sadu traditional form of weaving by Bedouin women in rural communities of the United Arab Emirates; Sada Shin Noh, sacred dancing at Sada shrine, Shimane (Japan), Cultural practices and expressions linked to the balafon of the Senufo communities of Mali and Burkina Faso, Mariachi, string music, song and trumpet (Mexico)and the Eshuva sung prayer which is performed for healing or as part of traditional ceremonies in Peru.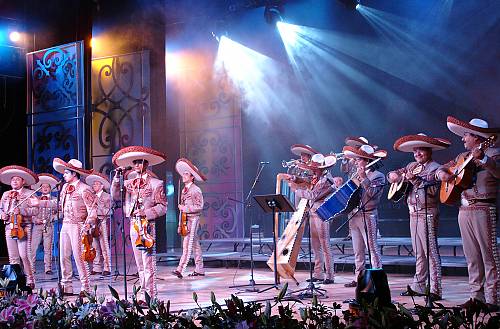 The other new entries were Mongolian folk songs played on ancient flutes; the art of Yimakan storytelling by China's ethnic Hezhen; Mauritania's Moorish epic T'heydinn poems; Yaokwa, an indigenous Brazilian drought ritual; and Vietnam's Xoan singing, practised in sacred places of Phu Tho province during spring.
Also newly listed is the secret society of Koredugaw, a rite of wisdom by the Bambara, Malinke, Senufo and Samogo peoples of Mali.
Iran secured two spots on the 2011 UNESCO list, the first with its oldest form of dramatic story-telling, Naqqa-li, which recounts tales in verse or prose accompanied by gestures and movements. The building and sailing of Lenjes, traditional boats used in the Gulf, was also listed.
The Convention for the Safeguarding of Intangible Cultural Heritage was adopted by UNESCO's General Conference in 2003 and now includes 139 States Parties. Only those countries that have ratified the Convention are eligible to present items for inscription on the Intangible Cultural Heritage Lists.
The Intergovernmental Committee for the Safeguarding of Intangible Heritage comprises 24 UNESCO Member States, elected for a term of four years.
[adsenseyu1]