Perfect tech accessories: 7 Chic new Duracell PowerCases and Powermats Hit Shelves In Time for the Holidays.

American fashion icon Michael Kors stands for style that can keep up with the fast-paced lives style-savvy men and women lead. The latest perfect tech accessories unveiled by Michael Kors fashion house are seven PowerCase and powermat products.
Inspired by the designer's Holiday 2014 collection, the new Michael Kors line will include seven Duracell powermat styles for Apple iPhone products. They will be available in a range of graphic color combinations including black and white, mandarin and raspberry, and Heritage blue and navy, as well as in Kors' signature MK logo print.
"Michael Kors designs for a generation of men and women who are more connected than any other in history," states Ron Rabinowitz, CEO for Duracell powermat. "That nonstop connectedness means portable power is a constant need. Together we are able to offer the most advanced portable power solutions in an iconic, beautiful way."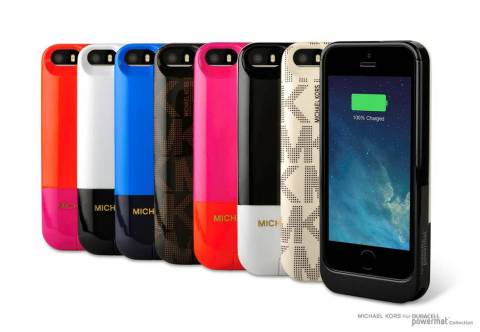 This collaboration is the first of its kind for Duracell powermat, and expands the appeal of this powerful technology to style-savvy men and women who need power on the go. The collection, launching this holiday season, includes powermats and PowerCases for the iPhone 5s/5, followed by Duracell powermat kits for the iPhone 6 early next year.
Michael Kors logo, embossed on the back of each PowerCase, serves to assure of the level attention to detail that has gone into every design.
The Michael Kors-designed PowerCase and powermat will offer the same trusted power, drop and go wireless charging and innovative design as the signature Duracell powermat products. The PowerCase's built-in 2000 mAh battery provides up to 100% extra battery power, while shielding your iPhone from nicks and bruises in a sleek, lightweight material. The powermat lets you recharge your iPhone and PowerCase wirelessly by simply placing them on the mat—no need to plug in your iPhone.