#Maserati100 Gathering – Cento anni di Maserati in true Italian style.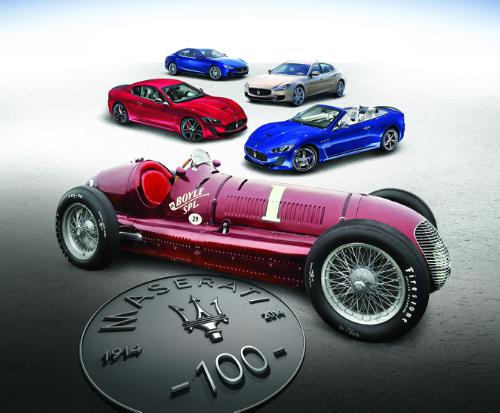 In December 1914, the Maserati brothers Alfieri, Ettore and Ernesto Maserati opened their first workshop in Bologna, Italy, and throughout 2014, Maserati has been celebrating its birthday in style all over the world. Cento anni di Maserati event in the United States will conclude this global birthday party and showcase the finest of Maserati automobiles, both vintage and new, fueling the Trident for its next 100 years.
This epic series of driving events to honor the Trident's 100th Anniversary will take place in key cities across America.
Maserati owners and enthusiasts will be drawn from across the U.S. to showcase their finest automobiles at this significant centenary milestone. Approximately 100 owners are anticipated at each event, signaling the largest gatherings of Maseratis on record in the U.S. Each Cento anni di Maserati rally will include a historically-significant bridge or landmark on the driving route, bridging a century of manufacturing to life. Each monument will serve as a symbol of the Trident's journey to America linking Maserati's history from the past into the future.
Participants who share their passion for the Trident will drive their own Maserati- old or new- on a specially prepared route that brings the spirit of Italy's most revered marque to the streets of the U.S. The series kicks off Saturday, November 1st at the Italian Embassy in Washington, (D.C.) with drives to follow in Miami Beach (FL), Los Angeles (CA) and culminate with a private opera experience courtesy of the Teatro Regio Torino of Turin at the Chicago (IL) Harris Theater.
"Maserati is more famous in North America today than at any point in its rich 100-year history," says Peter Grady, President and CEO of Maserati North America. "This is a unique moment in time, in which we celebrate with Cento anni di Maserati."