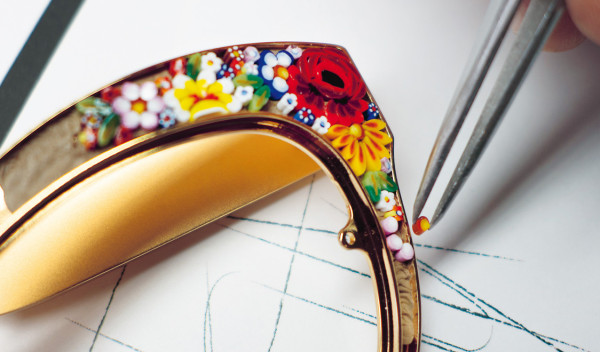 Imagine a pair of sunglasses literally covered by precious mosaic decors. Dolce & Gabbana revealed a luxury women's sunglass with each tassel being applied one by one by hands. Unique and highly exclusive, Dolce & Gabbana Mosaico Limited Edition Sunglasses have a gold metal frame and mosaic temples covered with a rainbow of Mediterranean flowers, expression of "the most high Italian craftsmanship ability".
Filato minute mosaic is an ancient Roman technique. "The technique of micro mosaic, or filato minute mosaic, requires the spinning of the tiles that composed the mosaic, resulting in tiles that were much smaller and thinner than those used in classic mosaics," explained Dolce & Gabbana.
The micro mosaic, created exclusively for the Dolce&Gabbana eyewear collection, involves masterly expertise in the spinning of Murano glass, resulting in micro tiles that are then delicately and accurately laid by hand by skilled craftsmen.