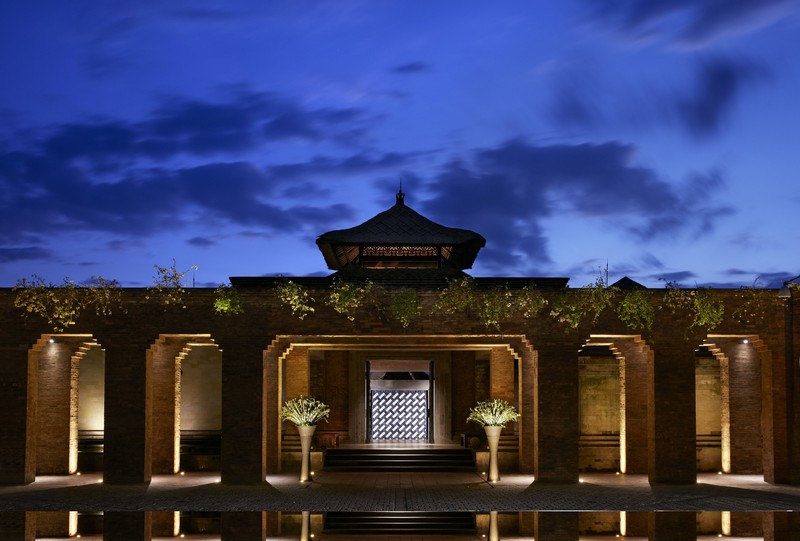 Named after the entrance to a traditional Hindu temple, the highly anticipated Mandapa Bali with only 35 luxurious suites, and 25 private pool villas is set along the majestic Ayung River as it meets the lush jungle in Ubud, the cultural and spiritual heart of Bali. Offering individually tailored spiritual, wellness, health and detox programs, complemented by the full time personalized attention of a dedicated Patih or butler, the intimate retreat is designed "to be a sanctuary in which relaxing one's mind, body, and soul comes naturally."
The Reserve is an exclusive journey inside an indigenous Balinese village. The place offers unobstructed access to nature – an essential component of the experience in Ubud. As an ideal destination for collectors of extraordinary moments, the center of Mandapa will feature a traditional rice field, and allows guests to experience the time-honored methods of planting, harvesting and tending this local culinary staple.
The traditional yet contemporary Balinese interiors by Jeffrey Wilkes of renowned Asia-based DESIGNWILKES have created a true luxury experience.
The Spa at Mandapa will allow guests to continue to discover peace of mind and body through holistic, comprehensive
wellness and lifestyle programs based on six pillars – Balinese Spa, Detox & Nutrition, Alternative Therapy, Body
Therapy, and Healing. Featuring eight treatment rooms and utilizing both ESPA and local products, the spa complex will
also feature a state-of-the-art fitness center, sauna, river-front yoga studio, vitality-pool, and relaxation areas.
Mandapa village will also be home to four restaurants & lounges offering an array of authentic Indonesian cuisine,
Mediterranean dining, and tailored health-conscious menus for wellness and detox programs incorporating the freshest
local ingredients. Dining Beyond, an exclusive culinary journey, will allow guests the chance to dine in special and
exclusive locations within the Reserve and feature a tailor-made menu for each guest experience.
An organic garden, farm, and an educational Kid's Hut are tucked away from the rest of the resort, to enable the smallest visitors to take an exclusive journey. The curious minds of young guests will be enriched with exciting, nature-based educational activities designed for mini explorers. In partnership with The Green School in Bali, the educational experiences of Green Camp at Mandapa introduce both the natural wonders and the rich cultural traditions of the destination. The program aims to provide a natural, holistic, student-centered learning environment that empowers and inspires the young guests to be creative and innovative green leaders.