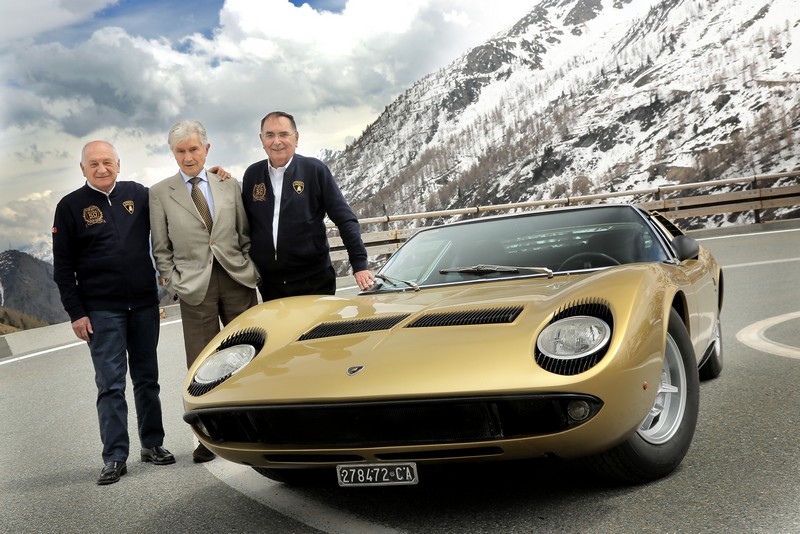 Automobili Lamborghini kicked off celebrations for the 50th Anniversary of the Miura with an art exhibit entitled, "Velocità e Colore" (Speed and Color), which will be on display from April 28 to June 30 at Lamborghini's historic museum in Sant'Agata Bolognese, Italy. Local artist Alfonso Borghi from Campegine (Reggio Emilia) was invited to interpret the Miura and the marque of the Raging Bull. Their spirit, essence and colors are expressed in his ten works on display.
As part of celebrations commemorating the 50th anniversary of the Miura, Automobili Lamborghini has sent two Miuras from its Museum down the route used in the film, "The Italian Job", directed by Peter Collinson. In the opening sequence of the 1969 cult film, the cars traveled up the hairpin curves of state road 27 around Great St. Bernard mountain, in the heart of the Italian Alps.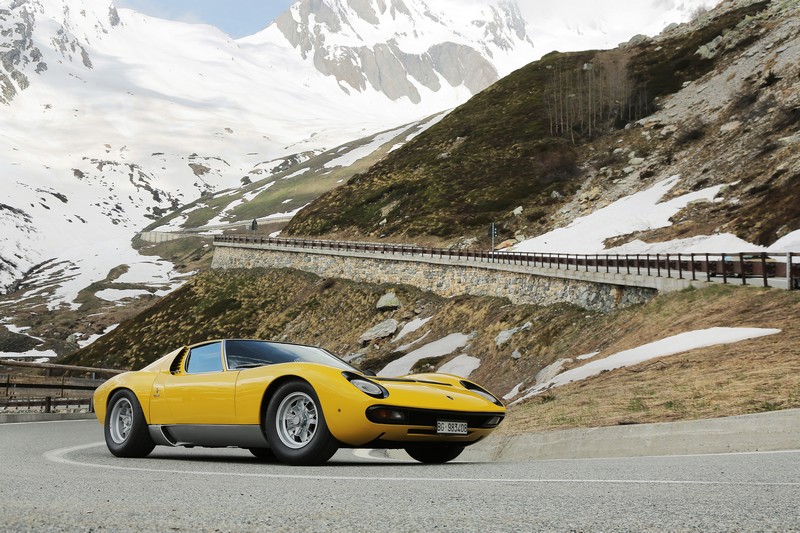 Very few cars managed to change the automobile world like the Miura. With its central engine and fascinating body designed by Marcello Gandini for Bertone, in 1966 Lamborghini redefined the concept of Super Car. Sceptical about the possibility of selling a large number of this sports car, Ferruccio Lamborghini decided to produce it on a small scale. Between 1966 and 1969 275 models of the 350 HP Miura were made and it was not until 1969 that its evolution was launched on the market, the 370 HP Miura S.
During the event, the "fathers" of the Miura met in a warm reunion. Gathering together were engineers Gian Paolo Dallara and Paolo Stanzani, who were in charge of the technical side, and Marcello Gandini, who came up with the exterior design for Carrozzeria Bertone.
Vehicles from Anas (the government-owned Italian company that builds and maintains roads) and the Polizia Stradale (Highway Patrol) escorted these Lamborghini super sports cars up to the Great St. Bernard Pass, which was opened on a one-time basis for this event, only.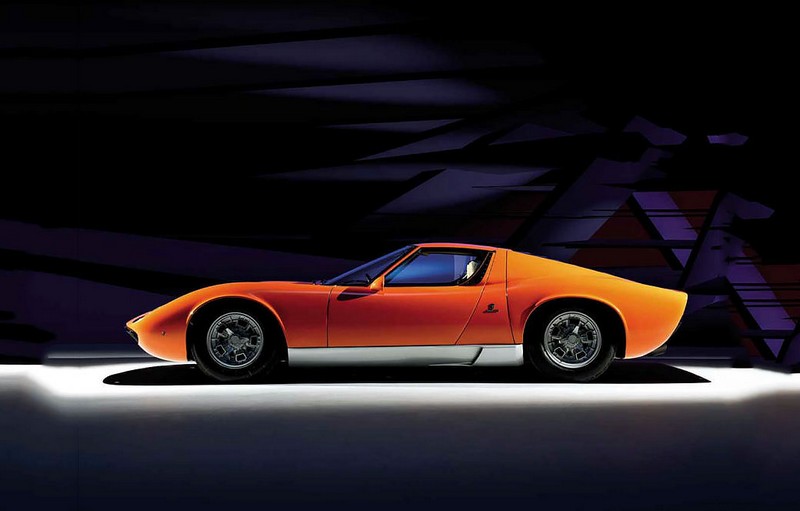 "Velocità e Colore" (Speed and Color) exhibit has been incorporated sympathetically within the prestigious collection at the Lamborghini Museum in Sant'Agata Bolognese, which opened in 2001. This unique facility highlights Lamborghini's important heritage, which combines the finest tradition of Italian craftsmanship and constant technological innovation. Exceptionally beautiful cars designed and built in Sant'Agata Bolognese – from 1963 to the present – are presented at the museum in a breathtaking sequence that extends over two floors, where historic vehicles can be admired such as the 350 GT, Miura, Countach, LM 002 and Diablo, but also concept cars and limited editions such as the Reventón, Sesto Elemento, and also the Urus: the concept car of Lamborghini's SUV.