May is women riders month
Harley-Davidson Celebrates The Empowerment Of Female Riders During May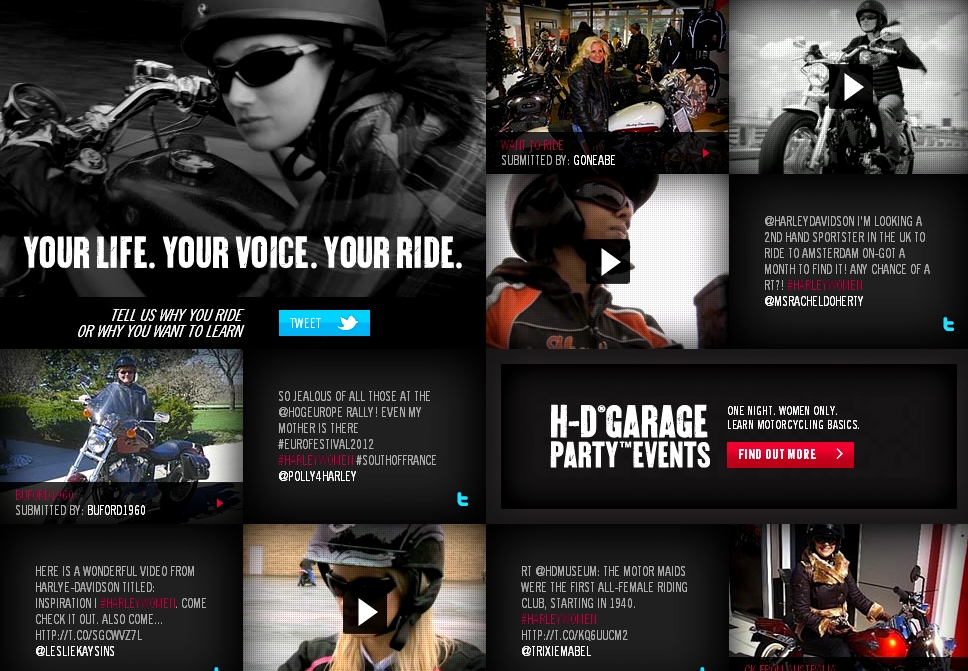 This month, Harley-Davidson is celebrating thousands of women who have cast aside their doubts, grabbed life by the handlebars and found empowerment through the sport of motorcycling during the fourth annual Women Riders Month.
Women Riders Month is designed to celebrate the increasing number of women who ride motorcycles, as well as empower other women to live out their own motorcycle dreams.
"Learning to ride a motorcycle is one of the most exhilarating and empowering experiences in life," said Claudia Garber, Director of Women's Marketing Outreach at Harley-Davidson Motor Company. "Women Riders Month celebrates women who've already found empowerment on the open road – but it also allows us to support the thousands of other women whose motorcycle dreams are still parked in the garage."
Throughout the month of May, Harley-Davidson hosts a series of programs designed to empower women riders and non-riders alike, including:

Buzz Wall: Every female rider has a story to tell. During Women Riders Month, the Motor Company encourages women to find their inspiration and share their stories with the world on the Buzz Wall (www.harley-davidson.com/voices). The Buzz Wall is an online billboard that showcases the inspirational stories of women who ride as well as videos, information and links to help women get started. Women can share their stories and photos by tweeting with the Twitter hashtag #harleywomen, or they can upload them to the Women Riding Stories section on Harley-Davidson's website.
International Female Ride Day: The 6th Annual International Female Ride Day on May 4th invited women riders around the world to "just ride," a concept that is passionately supported by Harley-Davidson.
Garage Party Events: Garage Parties are social events designed for women and hosted by participating Harley-Davidson dealerships across the nation. Events take place after hours and offer hands-on tips and seminars on key areas of motorcycling basics, all in a fun, laid-back setting. To find a Garage Party near you, visit www.harley-davidson.com\womenriders
Women Riders Web Site: Women can visit the updated Women Riders section of the Harley-Davidson Web site at www.harley-davidson.com/womenriders, which features information on how to get into the sport including the Roadmap to Riding tool, information on Rider's Edge Academy of Motorcycling training course, a calendar of Garage Parties in cities around the country and much, much more.