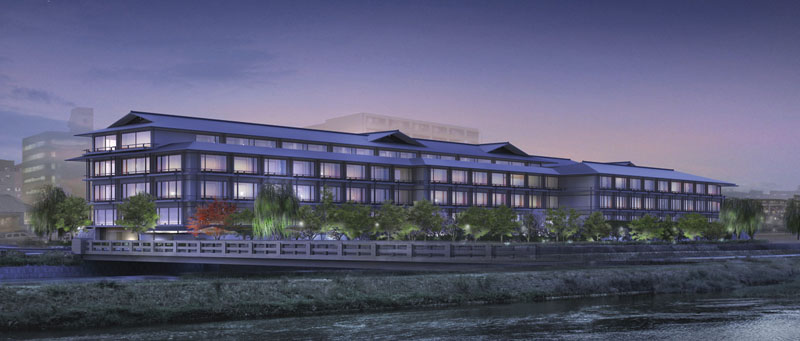 The Ritz-Carlton luxury hospitality group opened its fourth Ritz-Carlton in Japan, in the beautiful city of Kyoto. Dubbed Japan's first urban resort and heralded as one of the most highly-anticipated openings of 2014, the new establishment "offers a timeless window to Japan and complements perfectly 85 other Ritz-Carlton properties around the globe."
A peaceful sanctuary, the new luxury resort sits on the gentle banks of the Kamogawa River in Nijho Ohashi, close to Kyoto's popular downtown areas including Gion and Kawaramachi-dori, the city's retail and entertainment districts.The hotel's luxury guestrooms and suites offer full views of the river and the Higashiyama Mountains. The architects and designers have retained the character and aesthetic of a traditional Meiji house and courtyard into the architectural structure of the building. The interiors created by Peter Remedios and Spin Studios pay homage to the traditions of Japan, with patterned motifs created by local artisans and the incorporation of Zen rock gardens (karesansui) and water features, including a four-storey waterfall are aesthetically positioned in the heart of the hotel.
The Kamogawa Suite and its sister suites with their moon deck gardens (tsukimidai) and floor to ceiling windows offer luxurious accommodations with panoramic views of the river and mountains.
The Ritz-Carlton Spa, nestled at the foot of the waterfall, features seven intimate and inviting treatment rooms and offers signature services inspired by the rich culture of Japan and ESPA. These include a traditional Acupressure Massage using the dry Shiatsu techniques as well as the Ryokucha Serenity Ritual based on green tea leaves, Gyokuro, dried from the Sun for 20 days in Uji, southern Kyoto and famed for their restorative properties.
Pierre Herme Paris, creator of Haute Patisserie, will bring his popular creations and introduce an exclusive range of signature desserts to The Ritz-Carlton, Kyoto. The unique collaboration will showcase his work throughout the property including restaurants, meetings, weddings and banquets.