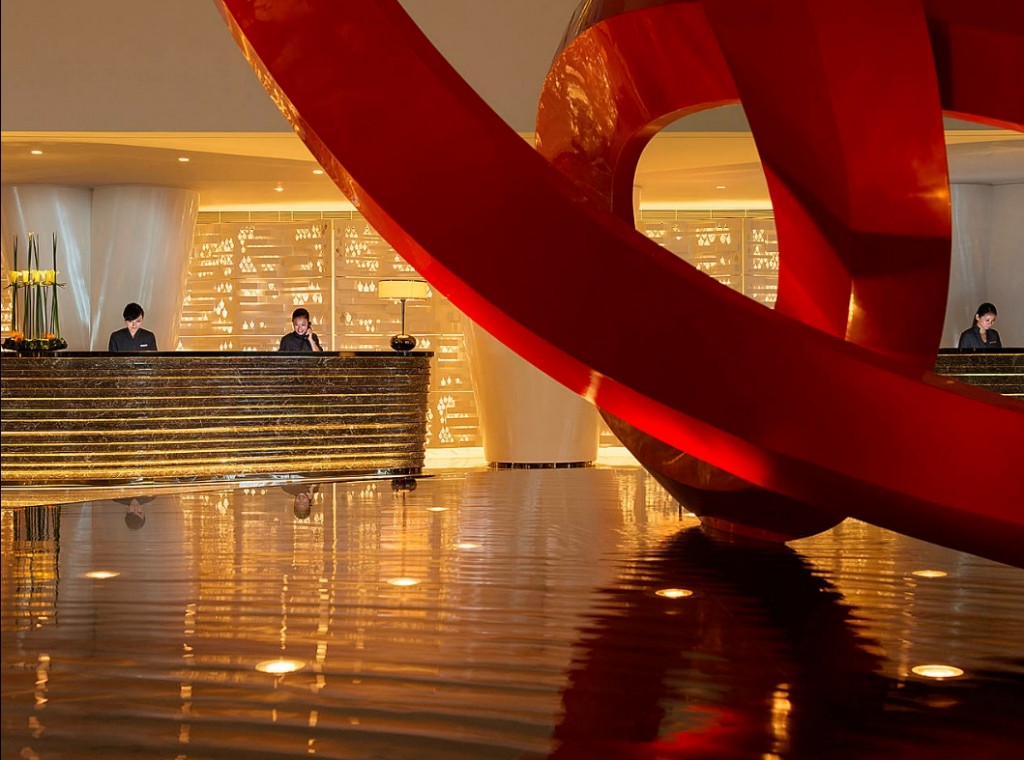 Rising 103 stories above the Pearl River, the new Guangzhou International Finance Center (GZIFC) building's top 30 floors are home to the the 88th Four Seasons' property – Four Seasons Hotel Guangzhou.
Known to centuries of western traders as Canton, Guangzhou is China's third largest city, located 120 kilometres (75 miles) upriver from Hong Kong and 165 kilometres (100 miles) from Macau.
Four Seasons Hotel Guangzhou joins Four Seasons Hotel Shanghai; Four Seasons Hotel Hong Kong; Four Seasons Hotel Macao, Cotai Strip; Four Seasons Hotel Hangzhou at West Lake; and the soon-to-be opened Four Seasons Hotel Pudong, Shanghai and Four Seasons Hotel Beijing in the company's growing portfolio, with a dozen additional hotels and resorts currently in advanced stages of development in China.
"We are particularly pleased to be the 88th Four Seasons hotel worldwide, doubling our luck for a successful future in Guangzhou," says Regional Vice President and General Manager Bahram Sepahi.
From the ground floor, guests of Four Seasons Hotel Guangzhou take dedicated express elevators to the 70th floor lobby, where a dramatic three metre red steel sculpture by Australian artist Matthew Harding appears to float on a sea of watery glass, reflecting the astounding ceiling window 30 floors above. The incredible naturally-lit atrium, surrounded by restaurants and rooms above, is higher than the top of St. Paul's Cathedral in London and New York's Statue of Liberty.
Throughout the Hotel, a carefully curated collection of paintings, prints and sculptures by contemporary international artists enhances the sleek modern interiors created by HBA/Hirsch Bedner and Associates.
Highlights include glass sculptures in Yu Yue Heen restaurant by Australian Clare Belfrage; a wood sculpture in Tian Bar by Richard Hutton of the Netherlands; mixed media sculptures by the American team of Jeremy Newman and Allison Ciancibelli in Caffe Mondo; paintings by Korean artist Yun Hee Toh in the Executive Club Lounge; nine sculptures by Yang Don Dong throughout the Hotel; and Lee Man Seng's unique Chinese seal-inspired timber sculptures in Yu Yue Heen.
On the 97th floor, the sumptuous Presidential Suite's contemporary look is enhanced by original artworks throughout 253 square metres (2,725 square feet) of living space that includes a central living room and dining area with adjacent butler's pantry and bedrooms on either side. Just below on the 96th floor, the Royal Suite's design is inspired by a traditional Chinese palette, also accented by original artworks.
Presiding over the kitchen at Yu Yue Heen, the Hotel's stylish Cantonese restaurant overlooking the 70th floor atrium lobby, is Chinese Executive Chef Law Yiu Choi. More than 50 years of culinary experience was highlighted in 1996, when he became only the second Chinese chef to be named a Chef Rotisseur by the prestigious international gastronomic society Chaine des Rotisseurs, which was founded in Paris in 1950 and traces its origins back to 1248.
Chef Law's signature dishes includes whole Yoshihama dried abalone in supreme oyster sauce; braised egg noodles with shredded fish maw and spring onions in abalone sauce; crispy duck, Peking style; crispy marinated Japanese pork in red bean curd crust; double boiledliao sea cucumber soup with cordyceps; and roast goose with plum sauce. Other menu standouts include several bird's nest soups and a dim sum selection, all accompanied by fine Chinese teas, scotches, cognacs, Chinese and international beers, and wine.