Dolce & Gabbana ice cream limited edition.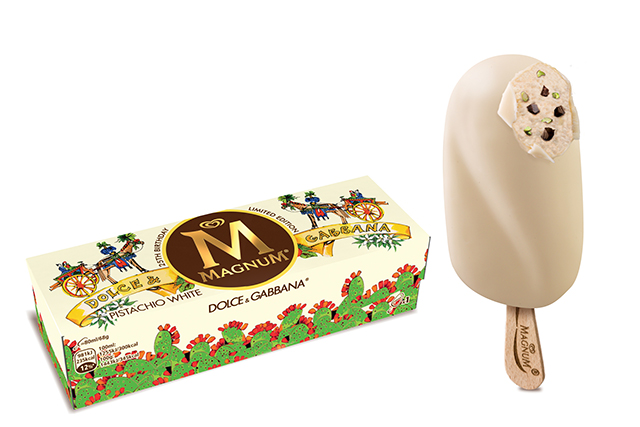 The name of Dolce & Gabbana conjures up an Italian pasticerie filled with 100 kinds of dolce treats. The Pistachio White Dolce & Gabbana Magnum bar is the gift Domenico Dolce and Stefano Gabbana have made for the 25th anniversary of the iconic Magnum ice cream. The special summer limited ediiton of the super-premium ice cream brand known around the world for chocolate pleasure incorporates Domenico Dolce & Stefano Gabbana's favourite flavours of soft vanilla ice cream covered with white chocolate and filled with dark chocolate bits with crushed pistachios.
For the box, the iconinc fashion duo used the image of a picturesque Sicilian cart with vibrantly coloured decorations. The decorative box inspired by the images of Sicily evokes summer with orange blossoms, prickly pear plants and coral fruits.
In the past, Magnum has tapped high-end fashion designers and celebrities like Zac Posen, Karl Lagerfeld, Rachel Bilson and most recently Kylie Minogue. To promote last year's new flavor vanilla bean ice cream with salted caramel swirl and golden chocolate coating, Zac Posen created a $1.5 million USD 24-carat dress.
Launched in 1989, MAGNUM was the first handheld ice cream targeted as a premium adult offering. Today, MAGNUM is one of the world's leading ice cream brands, selling one billion units annually worldwide, and it is the biggest brand of Unilever ice creams.