Take a mouth-watering peek: Initiation into taste, texture and temperature.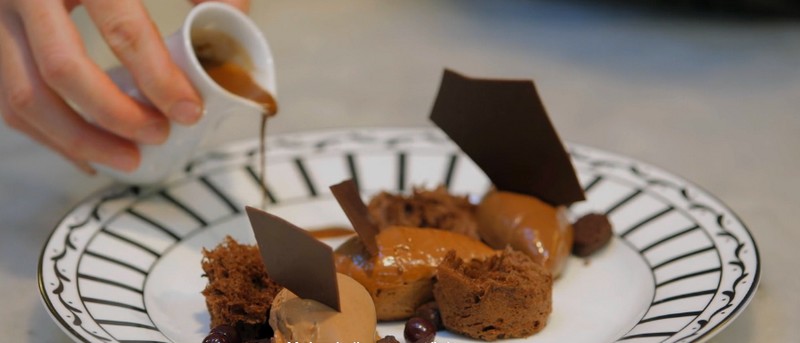 Invited to create morsels of gourmet deliciousness for visitors to the new House of Dior flagship in Seoul, pastry chef extraordinaire Pierre Hermé has developed an exclusive offering for the luxury House. The Café Dior by Pierre Hermé, located on the top floor of the Dior store in Seoul, expanded its menu of wintertime delights. After introducing two haute couture creations, Délire Délice – Infiniment Praliné Noisette, in November, and Plaisir Sucré, a Christmas 2015 special edition in December, Pierre Hermé created a new dessert, Initiation des Goûts, Textures et Températures centered on chuao, a Venezuelan chocolate. For this dessert, the famous French pastry chef played on the bitterness of blackcurrant and the bitterness of chocolate. The powerful, tannic side of blackcurrant goes very well with the chocolate. And so it's a whole interplay of textures and temperatures based on chocolate and blackcurrant.
"The idea for this dessert "Initiation into taste, texture and temperature" is precisely a play of flavors, a play of sensations and temperatures. It's a dessert that is made up of three large quenelles of rich chocolate cream, chocolate mousse, and an incredibly chocolately Chuao sorbet, with a chocolate sauce around it," explained Pierre Hermé, the French pastry chef most famous for his macarons, many of which have unusual flavor combinations.
"My inspiration was really to express something very different and to offer a taste discovery to the person with the plate before them, to offer a variety of emotions, a variety of sensations." added "The Picasso of Pastry."
"I write and draw the recipes, and afterwards it is the pastry chefs who work in the creative atelier who train the pastry chefs in Seoul or elsewhere. We are very, very, very demanding when it comes to the raw materials, very precise in terms of the indredients, in terms of the quality of these ingredients. It's certainly something in common with what one would call haute couture. It's the attention to detail and know-how, and the passing on of this know-how from the person to person that makes our profession so rich." concluded Hermé.
Pierre Hermé was the youngest person ever to be named France's Pastry Chef of the Year, and is also the only pastry chef to have been decorated as a Chevalier of Arts and Letters.