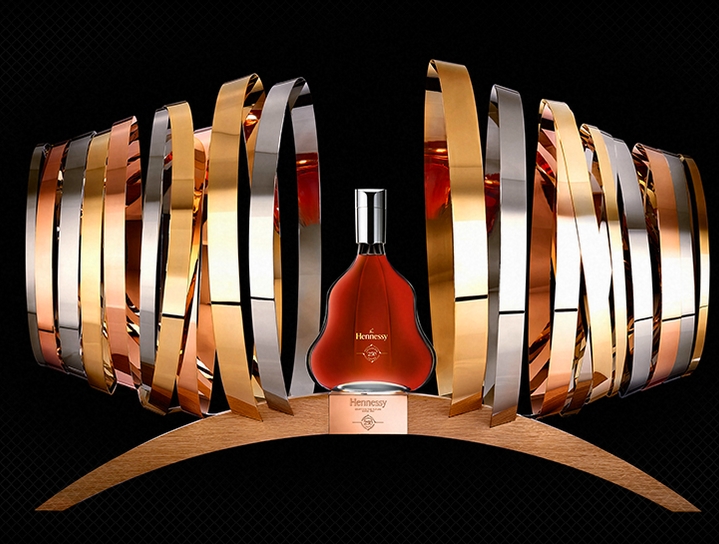 Never Stop Never Settle, says the motto of Hennessy cognac house. At the occasion of its 250th anniversary , Hennessy created a blend that embodies the Maison's History. From the 250 handcrafted barrels to the selection of a hundred eaux-de-vie and their slow maturation process, this cognac's harmony lies in over the legacy passed from 7 generations of Master blender.
Hennessy Master Blender Yann Fillioux expertly assembled eaux-de-vie aged 15-35 years. The blend completed its aging in special conditions: resting in 250 specially crafted barrels of 250 liters each, carefully stored at ground level near the banks of the river Charente.
"Rich and expressive on the nose, developing complex aromatic tones ranging from vegetal to spicy: bitter orange and freshly grated nutmeg, liquorice, dried peppermint leaf and delicate spices, in particular saffron," describes Hennessy the experience offered by 250 blend.
The 250 Tour, a mix of traveling exhibition and cultural festival, and celebrations are also an opportunity for enthusiasts to take part in the Hennessy legacy via the Time
Barrel , a global digital installation that invites visitors to leave a mark on the future by sharing digital messages to be shared with the world. Bernard Peillon, Chairman and CEO of Hennessy, best sums up the spirit of the 250th Anniversary celebrations, "Ever since Richard Hennessy founded the Maison in 1765, and throughout the seven generations that followed, Hennessy has forged its reputation by always looking forward, by being engaged with and passionate about the avant-garde, by
cultivating deep ties with faraway countries and cultures and by thinking globally before that notion was invented."
In conjunction with International Women's Day, Hennessy organized the third edition of Vignoble au Féminin, a forum for female winegrowers and winemakers. The event encourages women to pursue careers in the Wines & Spirits industry.