Stack's Bowers Galleries Partners With the Golden Nugget in Atlantic City to Unveil Gold-Dispensing ATM Machine – Only the Second of Its Kind in North America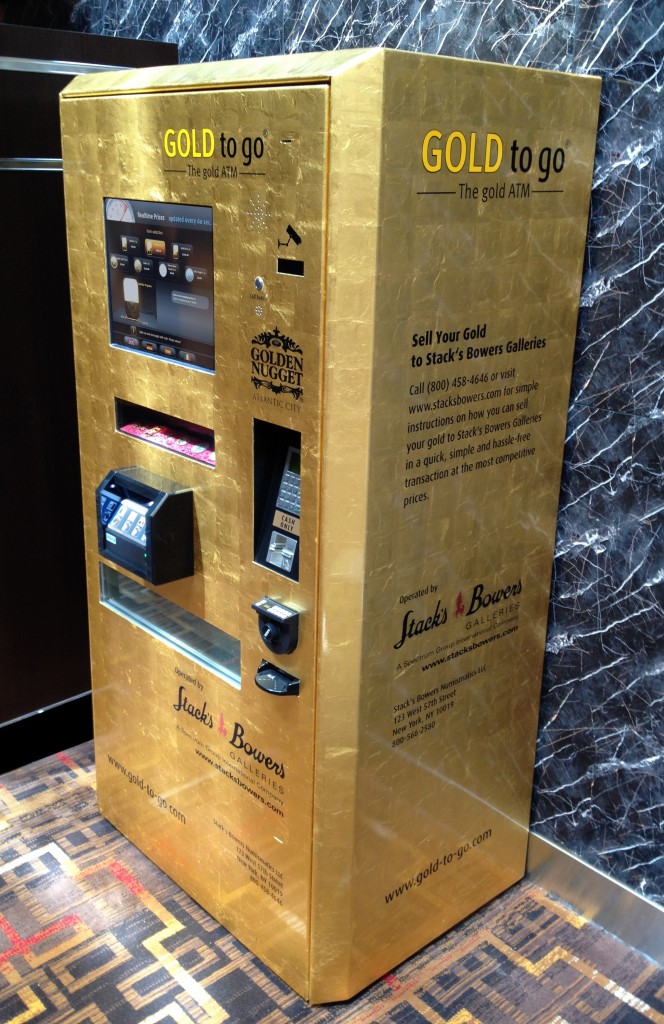 Stack's Bowers Galleries, leading retailer and auctioneer of premium collectible coins, currency and precious metals, unveiled its first GOLD to go ATM machine at the Golden Nugget Casino in Atlantic City, N.J. The world famous hotel and casino is the second location in North America with a permanent installation of a GOLD to go ATM, with the first located at the Golden Nugget's Las Vegas property.
The GOLD to go ATM updates its prices every 60 seconds based on current precious metals spot prices. Stack's Bowers Galleries will offer a variety of gold and silver bar and coin products with various weights ranging from 5 grams to 1 troy ounce. Every product is quality certified and produced by recognized manufacturers and world mints, and each item is dispensed in a premium and elegant gift box. The machine itself makes a stunning visual statement, covered in 24 karat gold leaf. There are more than 30 GOLD to go ATM machines currently in operation, including 21 in Germany, as well as United Arab Emirates, Italy, Portugal, United Kingdom, and United States.
"The Stack's Bowers Galleries GOLD to go ATM is convenient and very user-friendly, and fulfills a multitude of buyer needs on different levels – from serious gold collectors to guests seeking an exclusive high-end keepsake from their visit to the famous Golden Nugget. In addition to selling, Stack's Bowers Galleries also buys gold at competitive prices, providing full service options and hassle-free transactions," said said Brian Kendrella, director of operations for Stack's Bowers Galleries.
Stack's Bowers Galleries will continue the North America expansion of GOLD to go ATM machines with the continent's third machine launching the first week of July 2012, during the grand reopening of its historic rare coin showroom in the heart of New York City, located on West 57th Street between 6th and 7th Avenues.