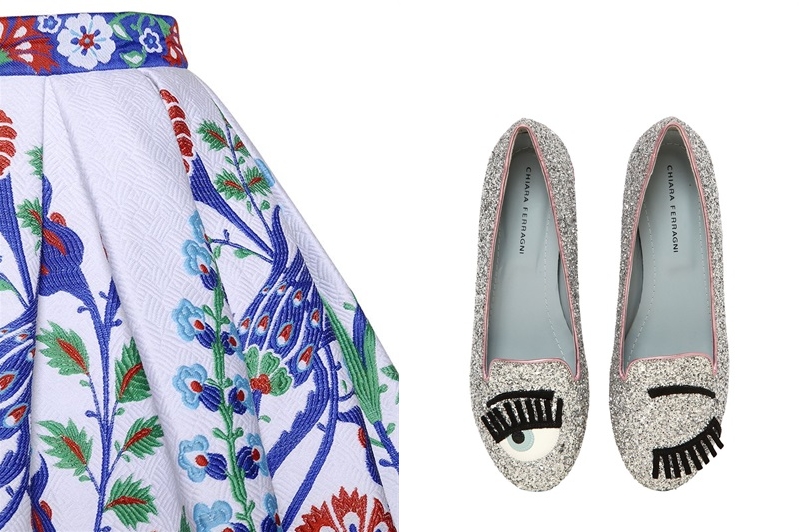 ---
This article titled "From high waist skinnies to bomber jackets: the big fashion trends of 2015" was written by Lauren Cochrane and Morwenna Ferrier, for theguardian.com on Tuesday 22nd December 2015 17.37 UTC
In broad brushstrokes, not much has changed in our denim choices for 2015 – the skinny still reigns supreme. But anyone sick to death of the shape might like to think of them in a different way: as a sort of sartorial chameleon, shape-shifting – sometimes literally – to fulfil fashion's needs, or fade seamlessly into what we wear now. The hem of skinny jeans slots into place with Stan Smiths, the shoe of the year, with a satisfying click of a charger on the side of a MacBook Air but it's the top that has seen a subtle, but crucial, shift: the high-rise skinny has taken over from those ultra-hipster ones that the likes of Britney wore around 2001.
Both Topshop and Gap report that high-waisted styles are now the most popular. Topshop's Joni high-waisted jeans in black are the brand's most popular item overall – with a pair selling every minute. At Gap, it's the high-rise in high-stretch denim. Both still have that spray-on effect but the higher waist is a blessed relief. Gap also reports that a hybrid of the boyfriend and the skinny – the so-called Girlfriend, with a looser waist but tapered leg – has been popular. But don't think that's the skinny on the way out. Instead, it's that chameleon shape-shifting once again to something that suits 2016 style just right. Lauren Cochrane
What else did we actually, genuinely, buy this year?
The suede skirt
Say what you want about M&S, and people do, but they still have a knack for producing an accessible, seasonal It item – see the dusty pink coat from 2013, one of the earliest examples of fashion going viral. Following a fallow 2014, this spring they produced the A-line suede skirt. It cost a fair bit (£199) but after being worn by Alexa Chung before going into mass production, lo, it went viral. It was so successful that they even made a mock-suede version of their own skirt (meta/smug, depending on your take) for a seventh of the price and which also did very well, and which was machine-washable. Morwenna Ferrier
Posh jogging bottoms
Remember when you laughed at the idea of athleisure – sportswear you could wear to the pub – in 2014? Then you got really into it? Life's a laugh like that. Jogging bottoms in something luxe and comfy were a casualwear staple. H&M and Zara sold tonnes. Raey from Matches did cashmere ones, too, without an ounce of the Juicy Coutures about them. And it's not even casual Friday. MF
Bomber jackets
One of the few trends to transition neatly over menswear without obviously falling into the GENDER-NEUTRAL FASHION slipstream, bomber jackets gently settled on to the high street this year. Some were silky and Gucci-esque, others a bit Drive-y, but the thinly padded MA1 bomber-style jacket (like this one at Topshop, which was a hit in long and petite depending on your look) was a lesson in lite-utilitarian. Plus it had proper pockets. MF
Polonecks
You couldn't move for polonecks in 2015. Seriously, you tried, but they always won – black and tucked in Phoebe Philo-style, sparkly (started by Dior, continued by Topshop), or under slip dresses while in survival mode during our exceptionally chilly summer. Taylor Swift wore loads of them. Céline made them look haute. Presumably you saw yourself somewhere between the two. MF
Uniqlo ultra-light down jackets
Uniqlo's ultra-light jacket became 2015's most important garment and the high street's favourite acronym (the site now calls them UL). Super-thin, super-light, handbag-rollable, you wore them long, cropped, collarless and sometimes – shudder – as a gilet. They sold out, were restocked at a terrific pace, and the world stayed warm. A revolutionary, genderless piece of kit which enabled us to wear a leather jacket in winter. Think about it. MF
Cigarette trousers
Not, as the name suggests, trousers for smokers, rather another historic throwback that became one of those capsule-wardrobe items which everyone bought, mainly from Gap and Topshop. Why? So you could show off your ankle boots or your ankles (thankfully, the sliver remains a bona fide look a good two years after it first surfaced). If worn with a poloneck well, congratz: you hit critical mass. MF
Pleated metallic skirts
As soon as you became aware of this now cult silver pleated skirt you wanted it. It sold out, but not before a bunch of high street variants (H&M's hi-shine in black and Topshop's bronze metallic version) had a go and before long, every pub looked like the Phoenix Club. A tucked-in lightweight sweater made this the Christmas party look of the year, and made you look bang on point. MF
Tiny earrings
Single earrings had a good go, didn't they? From Fendi's feather to Dior and Tibi, it was one of those trends that sounds great on paper, and a bit madcap IRL and which never really took off. What did, though, were minimal earrings – small, silver, gold or black. Some had a pearl, others a flourish of colour (see Givenchy and Chloé), while a simple gold hoop from ASOS or Zara worked a treat. MF
Loafers
The posh, office-happy retort to the Stan Smith, loafers have been circulating for decades but, on the high street for a good five years, peaking (arguably) in 2015. Russell & Bromley were still the go-to-shoe – tan or patent with a bold tassel – but in the last 12 months, more affordable versions popped up at Zara, Topshop and Office. Because, god, who didn't love school? MF
guardian.co.uk © Guardian News & Media Limited 2010
Published via the Guardian News Feed plugin for WordPress.